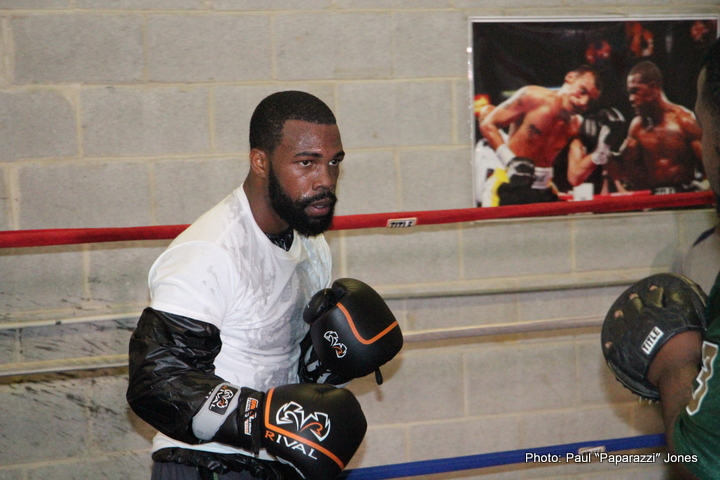 By Paul "Paparazzi" Jones | Photos © Paul "Paparazzi" Jones – On November 14, WBC World Featherweight Champion Gary Russell Jr. (26-1, 15 KOs) takes on former Colombian Olympian Óscar Escandón (24-2, 16 KO) at the Hard Rock Hotel and Casino in Las Vegas, Nevada. The bout, which headlines a SHOWTIME CHAMPIONSHIP BOXING® card, marks the inaugural defense of Russell Jr.'s belt and what he hopes will be a precursor to unifying multiple titles in the 126-pound division.
With preparations for Escandón winding down, East Side Boxing's Paul "Paparazzi" Jones sat down with Gary Russell Jr. for an exclusive interview during Tuesday's media workout. Here is what Russell Jr. had to say about his upcoming opponent, the importance of family, and possible match-ups:
Eastsideboxing.com (ESB): In 2011, ESPN, Sports Illustrated, and Ring Magazine named you as the Prospect of the Year and it seemed like you were on a meteoric rise. Then came the decision loss to Vasyl Lomachenko (4-1, 2 KOs) and it appeared that many people jumped off your bandwagon. Is that something that bothered you?
Gary Russell Jr. (GRJ): I never cared about that. My bandwagon is my family: my wife, my kids, my brothers, my dad and mom, and a very small circle of people outside of that. At the end of the day, the only people that I'm worried about making proud are those particular people.
Of course, I love anything that's positive, [like] when I see that I reach people that don't know me at all and they like what I bring to the sport. They like the fighter that I am, the level of entertainment that I bring to the ring, and they like me as a person outside of boxing, then I'm all for that. Everybody else, I really don't care. It really doesn't bother me at all.
ESB: Fast-forward to when you beat Jhonny Gonzalez (58-10, 49 KOs) for the WBC title, then it seemed like everyone knew Gary Russell Jr. again.
GRJ: Honestly, I was more happy for my father than anything. It wasn't anything that I did. I pride myself on being in the gym and being a hard worker. I'm in the gym when I'm sick, on my birthday, on my anniversaries, and all that. But my father is also like that and I watched him put his entire life on hold just to make sure that me and my younger brothers grew up to be the men that we are today. And for me to win that title, it was something amazing to me that I was able to give him the opportunity to reap his harvest on that particular day and to see all of his hard work come to fruition.
ESB: Many people are unfamiliar with your opponent, Óscar Escandón. For instance, he is 1-1 in his last two fights, but some boxing fans believe that his 2014 victory over Canada's Tyson Cave (27-3, 10 KOs) was questionable. What is the scouting report on him without giving away too much of your strategy?
GRJ: It doesn't matter about giving away strategy. He's going to have to get around it anyway. He's a straightforward fighter, and he's tough and durable. He's a shorter guy, [but] anyone who has on 8-ounce gloves has the potential to create an upset at any particular time. We're definitely a realist when it comes to things like that. So, we have to display a level of defensive discipline and be sharp. We have to do what Gary Russell Jr. does, which is display a great level of ring generalship, boxing IQ, and hand speed.
A lot of these guys are one-dimensional. What you see with Escandón is what you're going to get. We're not one-dimensional. I know that in order to be great you have to be versatile in the ring and that's what's we're going to do. Hopefully, we'll be able to control the entire pace of the fight, keep him on the outside, and keep him where we want him to be in the middle of the ring. If not, we're prepared. We've been working in sparring on closing the distance. Being close and just as comfortable in the pocket as we are on the outside. A diamond has to shine on all sides.
ESB: One of the first things that people notice about you is your fast hands. Do you believe that is more God-given talent or skill?
GRJ: It's definitely a combination of both because even if it's God-given, it's something that you constantly have to perfect. I'm always training and grinding. Even after I won my title, I was back in the gym the following Monday. I still have to keep my wheels turning.
In order for anything to be good, you've got to stay in constant motion. Even with a car, you've got to start it up once in a while.
ESB: There are many solid fighters at Featherweight and even Junior Featherweights like Guillermo Rigondeaux (15-0, 10 KOs) who could make for interesting fights against you. Are fights against WBA Champ Léo Santa Cruz (31-0-1, 17 KOs) or IBF titlist Lee Selby (31-0-1, 17 KOs) on your radar for the next year or so?
GRJ: Definitely in the next year. I don't see myself staying at 126 much longer. God willing, if we get through [Escandón], because we're underestimating no one, I would love to compete against Léo Santa Cruz or Lee Selby. I'm still willing to compete against Abner Mares (29-2-1, 15 KOs) even though he lost against Santa Cruz, because he still has a fan base and he's a good fighter. He also has a following and good backing, and we feel that he'll still be able to generate the type of revenue that we're looking to get.
ESB: Do you have any desire to hit the reset button on the Lomachenko fight?
GRJ: Of course and I don't care if he loses his next 10 fights. Before my career is over, he's got to see me.
ESB: I mentioned fighters at lighter weights earlier and, currently, Nicaraguan Flyweight Champ Román González (44-0, 38 KOs) is #1 on many pound-for-pound lists (e.g., ESPN.com)? Are you happy to see some of the attention moving away from the welterweights, middleweights, and light heavyweights back down to the lighter weight classes much like it did circa the early 2000s when fighters like Marco Antonio Barrera, Naseem Hamed, and Erik Morales were campaigning at featherweight?
GRJ: I'm going to be perfectly honest with you. The guys that you just named, I know nothing about. I am so serious and I'm not talking bad about these guys. Honestly, I've been in boxing my entire life, I've been boxing since I was four. I've been competing since I was seven and I'm 27 now. So, when it's not necessary for me to look at boxing, I'm not looking at boxing.
I still haven't seen the Mayweather–Berto fight [and] I haven't seen the Lee Selby fight. I've heard about these guys, but I've never paid attention to them unless they're in our crosshairs and they're someone that we might compete against. But, I'm definitely happy to see that the attention is down in the lower weight classes. It's seasonal, though. […] These younger fighters are going to blossom and we have all the talent in the lower weight classes as of now. So, we're in demand. I'm blessed that I'm in the right weight class at the right time.
ESB: You spoke of this fight potentially being one of your last at featherweight. If you decide to move up in weight, how high do you see yourself going over the course of your career?
GRJ: Of course, there's a desire to move up in weight. Ultimately, maybe 135 or so. There's room for me to grow into that weight class. I've been at 126 my entire career and that's about 6 or 7 years now. We got a title and I'd love to unify at least once and then move up in weight. We're ready.
ESB: I know you are fighting in Las Vegas for the second time in a row and you've fought there a few times before. Is Vegas becoming a home away from home for you?
GRJ: There's no place like home. It's funny, a reporter asked me, "What was one of the biggest venues that you've competed at?" And I thought hard on it because I wanted to give an honest answer. The only thing that I came up with was, "They're all the same."
It's cool to see the lights and the cameras, but to me it's just smoke and mirrors. The only thing that matters is getting out of the ring victorious at the end of the day. And when you magnify stuff other than the fight, mentally you're not where you need.
ESB: You said, "There's no place like home." Is there a plan to have a big fight back home in Washington, DC?
GRJ: I would L-O-V-E to compete [in DC]. Everyone wants me to compete here. There has definitely been talk of me fighting here. But, for now, we're just grinding. Hopefully, we'll get through this next fight and maybe we'll get a showcase fight. I'll talk to my management team and maybe we can make something happen because it's definitely in demand.
It's also funny because my wife and kids never come to my fights. The commentators and reporters often say, "Why don't you bring your wife to your fights?" And I say, "I don't go to her job and watch her work." [We both chuckle at the latter comment]
ESB: I've noticed that you always seem to have a calm demeanor. Even when you beat Gonzalez for the belt, you remained composed throughout. Are you always that way?
GRJ: What you see is what you get. You will never see me jump up on the ropes or doing any celebrating. My celebrating was to hug my dad and one of my brothers. You will never see me jumping up and down after a fight. We don't act as though we're surprised at what the outcome is. We train for it and expect it to be what it is. This is who we are: complete professionals in every way.
ESB: Thanks again, Gary. It's been a pleasure interviewing you. And best of luck against Escandón on November 14.
Gary Russell Jr.: Thank You! ■
Other News & Notes:
Also on hand for Tuesday's open media workout was undefeated middleweight Antoine "Action" Douglas (18-0-1, 12 KOs) who faces Australian veteran Les "Lock & Load" Sherrington (35-7, 19 KOs) in the main event of the November 6 ShoBox: The New Generation card (SHOWTIME │ 10 PM ET/PT). The fight will be televised live from The D Hotel & Casino in Las Vegas.
Contact "Paparazzi" Jones: prjones1@hotmail.com│Twitter@boxingepicenter
More from "Paparazzi" Jones:
Peterson Eyes Big Fights Against Khan, Crawford, or Postol with a Win Over Díaz Jr.
Boxing Notes: Mayweather–Berto Undercard Addition, Eddie Chambers Update, More!
The People's Court (of Public Opinion): Mayweather v. Pacquiao
OPEN MIC: A Candid Conversation with Lamont "Havoc" Peterson — García, Mayweather, Pacquiao, More!
The Year in Review: Six Notable Fights in 2014 – Part I — Pacquiao, Hopkins, Froch, More!