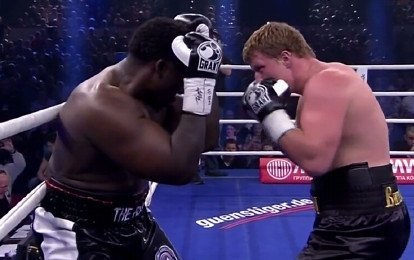 By Rob Smith: WBA World heavyweight champion Alexander Povetkin (25-0, 17 KO's) easily took care of Hasim Rahman (50-8-2, 41 KO's) earlier tonight in a 2nd round TKO win in Hamburg, Germany. It was impressive stuff from Povetkin in beating an over-matched and badly past his prime 39-year-old Rahman. The question that boxing fans now want to know is when if ever will the 33-year-old Povetkin step it up and take on IBF/WBA/WBO heavyweight champion Wladimir Klitschko or his brother WBC heavyweight champion Vitali Klitschko.
Povetkin said this after the fight as quoted by espn "When [my promoters] say it's time to fight Klitschko, I will be ready. He's the best heavyweight in the world and I will be ready to fight him."
Wladiimr doesn't think Povetkin wants the fight, saying to Sports Illustrated "Right. Where was he before? Please."
Povetkin had opportunities in the past to fight Wladimir but chose not to. Now it's a fight that isn't nearly as interesting as it was because the heavyweight division has gotten better recently with EBU heavyweight champion Kubrat Pulev emerging as a major force in the division. There's also unbeaten Tyson Fury, David Price and Denis Boytsov that are out there as potential good fights for Wladimir in the future.
If Vitali Klitschko sticks around for a little while longer you'd have to factor him into the mix as a possible opponent for Povetkin. Personally speaking, I'd prefer to see Vitali fight Povetkin than Wladimir, because Vitali would be more likely to mix it up with Povetkin a lot more and bludgeon him into submission compared to his brother Wladimir. Povetkin would have to chase Wladimir and eat jabs all night long and it wouldn't be an interesting fight because of Povetkin's slow foot speed. If David Haye couldn't do anything with Wladimir then can a slower fighter like Povetkin do anything as well?