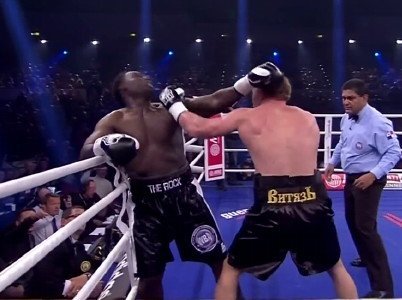 By Dwight Chittenden: Nothing went right for 39-year-old Hasim Rahman (50-8-2, 41 KO's) tonight in him losing to WBA World heavyweight champion Alexander Povetkin (25-0, 17 KO's) by a 2nd round TKO at the Sporthalle, Alsterdorf, Hamburg, Germany. Rahman waited four years for this title shot and when it came he looked weak, lethargic and incisive in getting demolished by the Russian Povetkin.
Later after the fight, Rahman blamed the defeat in part on being dehydrated, saying as quoted by ESPN "I was weak and dehydrated. I was in the hospital last night for fluids. I couldn't move. He's not a terribly big puncher but I couldn't establish my jab. I was flat."
Even if Rahman was on the level about this, it was on him for being dehydrated the night before the fight. What was he doing that dehydrated this close to a fight? It's not as if Rahman was having to boil down to make weight or something. This is heavyweight and Rahman could come into the fight weighing a fat 300 pounds and the fight would have still taken place. If he was working out hard a day before the fight then he shouldn't have been because that's when you take it easy.
I just don't understand how Rahman could be dehydrated before the fight. I could understand it if he was trying to make weight, but that doesn't make sense because heavyweight don't need to make weight and the whole of weigh-ins for heavyweights seems kind of ridiculous and totally unneeded.
Rahman was hurt early in the fight after getting hit with a hard right hand from Povetkin in the 1st round. Rahman's legs turned to rubber for a brief instant before he was able to continue fighting without showing any additional signs of being hurt. In the 2nd, Rahman threw a few pawing jabs but was hit with a hard left hand by Povetkin that staggered Rahman's legs causing him to back up to the ropes.
Povetkin then went after Rahman, landing combinations to the head, causing Rahman to grab onto the ropes for support. It looked like Rahman needed to hold onto the ropes in order to keep from going down. With Povetkin not letting up on Rahman, referee Gustavo Padilla stepped in and stopped the fight at 1:46 of the round.