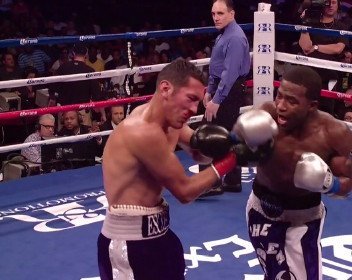 By Michael Collins: Former WBO super featherweight champion Adrien Broner (24-0, 20 KO's) and WBC lightweight champion Antonio DeMarco (28-2-1, 21 KO's) will be mixing it up on November 17th on HBO at the Boardwalk Hall, in Atlantic City, New Jersey,. The fight is now official, according to Dan Rafael. This should be a really good fight and perhaps the best lightweight fight of this year.
Broner is moving up from the super featherweight division where he previously held the WBO belt. He could have stayed at that weight, but he wanted to have more strength and didn't have to have to melt down quite so much. He had been fighting in the mid-140s and draining down to make the 130 pound super featherweight limit. Broner gets a lot of criticism from fans for fighting so high over his old weight, but compared to former WBC middleweight champion Julio Cesar Chavez Jr., Broner isn't all that bad. But now that he's fighting at 135, it won't be nearly as big a deal because it's only 10 pounds that Broner will be putting on after he rehydrates.
Demarco is fighting a very high level right now and he could be the best at this weight right now, at least until we see what Broner can do with him. DeMarco has victories over notable fighters like John Molina and Jorge Linares. He's proven with those wins that he's a legit champion and not one of the many paper belt holders that exist nowadays.
Broner has knocked out his last four opponents and he appears to be on his way to stardom. HBO is really high on him, and he's that Floyd Mayweather-esque fighting style to go along with his big time power. Broner's stay at lightweight might long, because he's got a large frame and he has the potential to move up all the way to welterweight and take over the division if everything works out right for him. It's interesting thought that Broner could take over for Floyd Mayweather Jr. to dominate the division after Mayweather retires at some point.
We should see a good fight between DeMarco and Broner. I think Broner will be too talented for DeMarco and will get a stoppage in this fight.