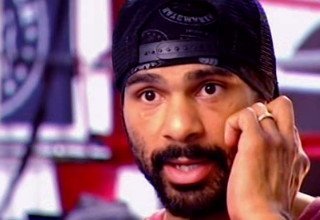 By Michael Collins: Former two division world champion David Haye gave a bit of encouragement to Ricky Hatton for his fight on Saturday night against Vyacheslav Senchenko, telling him not to listen to the criticism from fans and the media about his comeback fight.
Haye said on his site at hayemaker.com "Wishing you good luck tomorrow. Don't listen to the haters. Just go out and do your thing. I know you wouldn't be coming back if it wasn't for a reason. I think you have a little something left. You have a little something up your sleeve. I wouldn't be surprised to see. Go out and do your thing. Stay healthy."
I never really saw Hatton's problems in the past stemming from confidence or lack thereof. That to me seemed to be the last of Hatton's problems. I think Hatton's problems were more of a case of his lack of defense, his wild fighting style, and his inability to take hard head shots. It was a combination of things that was ultimately Hatton's undoing when he got to the upper levels of the welterweight division. It wasn't just one thing.