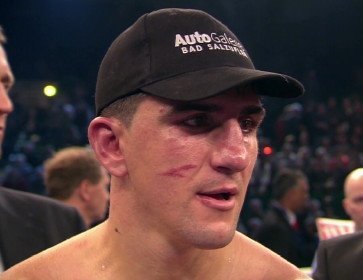 By Dwight Chittenden: If IBF/IBO/WBA/WBO heavyweight champion Wladimir Klitschko does turn and decide on fighting WBO cruiserweight champion Marco Huck, he may not get the kind of attention that previously may have been available before last night. In yet another fight involving Huck, he defeated 42-year-old contender Firat Arslan by a hugely controversial decision in Germany and the fight result of the fight wasn't agreeable with the German public that watched the fight live at the Gerry Weber Stadium, Halle, Nordrhein-Westfalen, Germany.
Huck is becoming a regular to controversial decisions and for the most part they seem to favor him. But this kind of thing is starting to wear thin, and he didn't help himself any getting a decision given to him that boxing as a whole didn't agree with. But even you ignore the controversial decision, which is impossible to do, you can't can't around how poorly Huck fought against Arslan. Huck's shots were picked off all night on the gloves of Arslan, and Huck just looked weak and inept.
If Wladimir wants to fight Huck after this it could be the equivalent of a stink bomb wherever the fight takes place. If Wladimir wants to fight a cruiserweight then he should be fighting Arslan, not Huck. That sends the wrong message when you fight a guy that appeared to lose in the minds of many boxing fans. It's better that Wladimir not mix himself up with this kind of fight. He's already facing less than the best opposition in his last two fights against Jean Marc Mormeck and Tony Thompson, and now he's fighting a bottom dweller in Mariusz Wach, who really doesn't belong in the same ring with Wladimir and we'll see that next Saturday.
But Wladimir shouldn't be wasting his time with Huck because he really needs to step up the level of his competition and get away from taking easy fights that do little for him. Huck would be an awful fight because he's just a crude slugger without a lot of skills. Wladimir needs to let Ola Afolabi handle Huck, and not get involved with this mismatch.