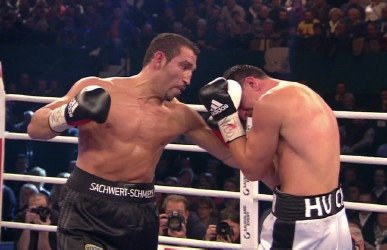 By Dwight Chittenden: Right now 42-year-old #8 WBO Firat Arslan (32-6-2, 21 KO's) is feeling really upset about being on the losing end of a controversial 12 round unanimous decision against WBO cruiserweight champion Marco Huck (35-2-1, 25 KO's) last night at the Gerry Weber Stadium, Halle, Nordrhein-Westfalen, Germany.
Arslan fought well, landed the better punches in the fight, and had the crowd firmly behind him from start to finish. However, instead of being given the decision, Arslan was handed a nice big loss for all his trouble with the judges giving the frequently lucky Huck the win by the scores of 115-113, 115-113 and 117-111.
Arslan said this moments after the fight had ended "I've seldom landed so many clean punches and the only scuffed me. How can such a thing happen? I landed so many punches. I think the whole crowd believes I'm the winner. I've been robbed of my win. I would have been the new world champion today. I would have written history."
The only thing that Arslan is writing is a loss in history, and he's not likely going to get a rematch anytime soon. That's the real sad part because he's 42 now and by the time Huck does get around to fighting him again, Arslan will likely be close to 44 and not fighting at the same level he is. Huck has a mandatory defense of his World Boxing Organization title due next. However, he's probably going to get an exception by the WBO so that he can move up to heavyweight and challenge IBF/IBO/WBA/WBO heavyweight champion Wladimir Klitschko for his titles. Following that, Huck will defend his WBO cruiserweight title against Afolabi, if Huck doesn't beat Wladimir that is.
Arslan fought really well and deserved to get the win. However, he was facing Huck, and this guy has had a number of controversial decisions that have gone his way in the last two years in fights against Denis Lebedev and Ola Afolabi. The judges seem to prefer his aggressive style to his opponents cleaner landing shots for some reason.