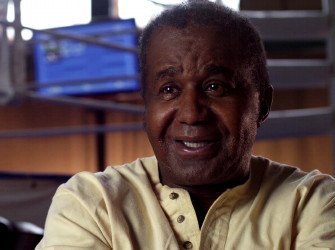 By Michael Collins: Trainer Emanuel Steward has some concerns about the 6'7 1/2″ unbeaten heavyweight contender Mariusz Wach (27-0, 15 KO's) as being a tough fight for IBF/IBO/WBA/WBO heavyweight champion Wladimir Klitschko (58-3, 51 KO's) in their fight on November 10th at the O2 World Arena, Altona, in Hamburg, Germany.
Steward told fightsaga.com "I have my work cut out for me with this assignment. Wach will not only be the biggest opponent Wladimir has fought since we've been together, he will also have the mentality of an undefeated fighter when he steps in the ring."
Wach has won all of his 27 fights, but he's also not fought anyone that you could call good. He's still at the Tye Fields level, and now he's being put in with Wladimir. I'm sure Wach wants the fight and the payday that goes along with it, but he'd have been better off waiting until he'd at least fought two or three contenders so that he could pick up more experience before fighting for a world title. Wach has excellent power in his right hand, but that's about all he's got. His jab is like like limp spaghetti noodle, and his left hand is virtually nonexistent. But perhaps the biggest flaw in Wach's game, besides the lack of a punch arsenal and experience, is his slow hand speed.
Wach is very slow, and perhaps the slowest fighter that Wladimir will have faced during his career unless you go way back to the beginning of his pro career when Wladimir destroyed Paea Wolfgramm in a 1st round blowout. Wolfgramm and Wach compare nicely in terms of hand speed. But Wolfgramm weighed 287 lbs and had a nice left hand and jab. He wasn't just a big slow guy that could only throw right hands.
I don't agree that this will be a tough fight for Wladimir. I don't blame Steward for trying to pump up Wach, because the fight needs to be marketed for boxing fans to want to bother seeing it. But I don't see Wach as someone that can hang with Wladimir for long in this fight, and I certainly don't see him as having a chance at winning. Wach would be lucky if he could beat a fighter like Tyson Fury at this point. Wach is 32, and he doesn't have the speed or the wheels to do much against Wladimir or some of the contenders in the division. I'm still not sure why the World Boxing Council gave Wach a #4 ranking based on the wins he has on his resume. Given the experience that Wach has in the heavyweight division, I see him as someone that shouldn't even be ranked in the top 15.