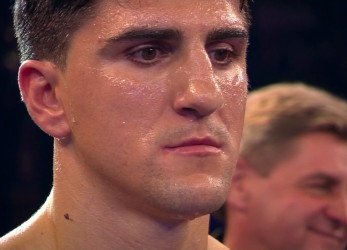 By Joseph Herron: This past week, WBO Cruiserweight title holder Marco Huck publicly announced his $5 Million proposal to universally recognized Heavyweight Champion Wladimir Klitschko before stepping in the ring with 42 year old title challenger Firat Arslan on Saturday, November 3rd, in Nordhein-Westfalen, Germany.
But moments after getting past the experienced former title holder uncomfortably, former Heavyweight title challenger and newly proclaimed Cruiserweight contender "Fast" Eddie Chambers from Philadelphia, PA, USA, had several comments regarding the reigning WBO Champ's recent activity.
"First of all, struggling with an experienced former title holder really doesn't incriminate or diminish Marco Huck as a Cruiserweight Champion," insists the 30 year old American hopeful. "Anyone can give you fits on any given night at this level."
"But his performance isn't why I'm scratching my head right now."
"No disrespect to Huck, but who does he think he is 'offering' the best Heavyweight on the planet an 'opportunity' to fight him for 5 million dollars?"
"Let me get this straight, Huck is offering 'the man' in a much more lucrative division a chance to fight…him? That's just like Danny Garcia offering Floyd Mayweather Jr. an opportunity to fight for his WBC Junior Welterweight title. Really?"
"I hate to break this to Marco, but Wladimir could probably make more than 5 million dollars just by sparring with his brother in an exhibition. He is at a level that transcends any title. Klitschko can fight anyone he chooses and probably sell out any arena in Europe. He doesn't need you and he probably views your 'generous' offer as more of an insult than anything."
"Now Marco Huck has accomplished a lot in the Cruiserweight division and he's a very tough guy, but he really needs to recognize his place in the world of boxing."
Not only does Chambers clearly see a status disparity, but he also recognizes an extremely wide discrepancy in fighting class.
"First of all, let's just examine the potential match-up between Huck and Klitschko. Marco would be fighting a guy who is 6'7" and who probably exceeds his level of speed and athleticism. But not even taking Wladimir's physical gifts into consideration, you look at the experience factor as well as how he cultivated his talents. Arguably the greatest trainer in the history of the sport, Emanuel Steward, prepared Wladimir to deal with any adversity at the highest level of the game. To call this a mismatch, would be a massive understatement."
Although the slick Philly fighter means no disrespect to any fighter in any level of the sport, Eddie Chambers simply believes that more competitive match-ups are ultimately better for the sport of boxing.
"Don't get me wrong, I think Marco Huck is a credit to the sport. He's always in an entertaining fight and I would really love the chance to face him one day for his WBO Cruiserweight title. But he really should focus on defending his title properly instead of chasing an elusive fight with Wladimir Klitschko."
"There are so many compelling fights that remain in the Cruiserweight division. Unification bouts with Lebedev, Hernandez, and Wlodarczyk would be great for the sport. Also, I know I'm a little biased, but I think a fight with 'Fast' Eddie Chambers would be a very intriguing and captivating fight."
"Maybe if Huck can beat a fighter who has been recognized as a 'Top Five' heavyweight in the division for the past several years, he could make a stronger case towards getting a fight with Wladimir Klitschko."
Chambers has never won a major world title during his twelve year tenure as prizefighter, and the perennial contender claims that becoming a world champion was his primary motivation for deciding to fight in the challenging Cruiserweight division.
"I was tired of being a part of the log-jam that is the Heavyweight division," professes Eddie Chambers. "There are the Klitschko brothers, and then there is the rest of the division. I know people have stated that moving down to Cruiser is long overdue, but I really wanted to become the Heavyweight Champion of the world. I know there is still time for me to do it, but I have to prove to myself that I have what it takes to become a world champion right now…and I plan to get my first world title very soon in the Cruiserweight division."
"It would be an honor to share the ring with any of the current title holders. But if Marco Huck plans to eventually fight at Heavyweight, I know that a fight with "Fast" Eddie Chambers would be the most logical step in that direction."