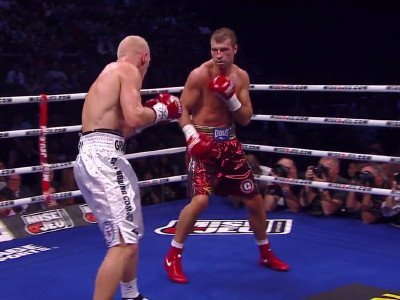 Blog Talk Radio's, "The Pugilist KOrner's: Weekend Wrap" is proud to present a special "November 10th Big Preview" tonight at 9:00 PM EST.
Pugilist KOrner listener line: 718-506-1506
On tonight's broadcast, we will be dissecting this weekend's big action, including Bute/Grachev, Huck/Arslan, and much more. James and Joseph will also give the tonight's listeners a special preview of Bute/Froch II at the Bell Centre in Montreal, Canada, which is rumored to be slated for March of 2013.
During the 2nd half hour, "The Pugilist KOrner" is honored to feature elite level trainer Ronnie Shields. The expert boxing proponent will give us his take on all of the big match-ups scheduled for November 10th, including his fighter's big event against undefeated Vanes Martirosyan at the Wynn Las Vegas.
Throughout the final half hour of the program, expert fight strategist James Gogue will break down this Saturday's match-up between Abner Mares and Anselmo Moreno. The master strategist will analyze keys to victory for Klitschko/Wach and Lara/Martirosyan.
All listeners are encouraged to call in to "The Pugilist KOrner" to share your thoughts on anything boxing. To be a part of the show, please call in with 718-506-1506 (Don't forget to dial 1 to be placed in the hosts' cue). All questions and comments are welcomed.
Tonight's show will be hosted by Radio commentator James King and Boxing writer and announcer Joseph Herron.
To listen to the "Pugilist KOrner", simply use the following link:
Tune in tonight to the "Pugilist KOrner"!!
ANDRZEJ FONFARA CHICAGO PUBLIC/MEDIA OPEN WORKOUT THURSDAY, NOVEMBER 8,
CHICAGO, IL (November 4, 2012) Just eight days ahead of the biggest fight of his career, Chicago's Polish Prince, Andrzej Fonfara will host a Public/Media Open Workout on Thursday, NOVEMBER 8 at 12Noon at the 8 Count Boxing Gym (410 N. Oakley, Second Floor, Chicago, IL).
On Friday, NOVEMBER 16, Fonfara will face world title challenger Tommy Karpency for the International Boxing Organization (IBO) Light Heavyweight World Title in the twelve round main event at "WORLD CHAMPIONSHIP BOXING" at the UIC Pavilion.
WHO: ANDRZEJ FONFARA, World Ranked Light Heavyweight
SAM COLONNA, Fonfara's Trainer
FRANK MUGNOLO, President of Round 3 Productions
WHAT: PUBLIC/MEDIA OPEN WORKOUT
WHEN: THURSDAY, NOVEMBER 8, 12NOON
WHERE: 8 COUNT BOXING GYM
410 N. Oakley, Second Floor
Chicago, IL 60612
(312) 226-5800
FACTS: "WORLD CHAMPIONSHIP BOXING", presented by Round 3 Productions is headlined by a twelve IBO Light Heavyweight World Title bout between Chicago's Polish Prince, Andrzej Fonfara, 22-2-0 (12KO's) and world title challenger Tommy Karpency, 21-3-1 (14KO's)
Advance tickets for "WORLD CHAMPIONSHIP BOXING" priced at $150, $100, $50 and $30, may be purchased through Ticketmaster (www.ticketmaster.com, phone 1-800-745-3000) or at the UIC Pavilion Box Office (phone 312-413-5700) in addition to the Round 3 Productions Office (phone 708-345-9999).
The UIC Pavilion is located at 525 S. Racine on the near West Side of Chicago. Doors on the evening of the event will open at 7pm with the first bell at 8pm.
Demyanenko beats Arias
Tacoma, WA (November 4th, 2011) – Only two weeks after coming off a unanimous decision victory in Oklahoma City against Roberto Valenzuela, Demyanenko jabbed and hooked his way to a nail biting split decision victory over Damian Frias.
Brian Halquist Productions' 89th Battle at the Boat resulted in an excellent night of fights that had the crowd buzzing all night long.
Two judges scored in favor of Demyanenko: (97-92) (95-94), while the other judge scored in favor of Frias: (96-93). The big moment in this fight was halfway in the 7th round when Demyanenko landed a left hook to the cheek of Frias that knocked him down. Frias was able to get back up after taking all 10 seconds to stabilize. When the round resumed, Demyanenko attacked Frias with a barrage of combos that put Frias on the ropes and in serious danger of another knockdown. Knowing the fight was close, Frias amped up his power in the 10th round and was centimeters from landing a devastating uppercut that possibly could have ended the fight, but the last minute attempt for a knockdown was avoided by Demyanenko.
Demyanenko keeps his record perfect as it improves to 22-0-0 with 12 Knockouts. Frias drops to 19-6-1; all losses coming via decision.
Portland, OR resident, Ray Lampkin continued his comeback to boxing after a 5 year layoff with a unanimous decision victory over Yakima, WA native Randell Corpuz in the semi-main event. Both fighters brought a huge fan base to the Emerald Queen Casino and they didn't disappoint.
Lampkin and Corpuz had plenty of pre-fight drama and it showed in the ring. Throughout all four rounds, both fighters were matching each other in tempo. Corpuz showed an excellent chin as he took a number of shots, but was not phased one bit. Corpuz landed his fair share of shots as well, but Lampkin refused to go down. In the 3rd round, Corpuz got a hold of Lampkin and tossed him through the ropes. The animosity only intensified after that as Lampkin was inviting Corpuz to land a free shot.
The judges scored the bout 40-36, 39-37, and 39-37, all in favor of Ray Lampkin as he improves his professional record to 2-0-0.
Battle at the Boat 89 had six debuts with the most impressive one being Daryl Gardner when he went up against Jon Jay Mount (1-0-0). Gardner came out swinging from the opening bell and put on a show for the full crowd in attendance. Gardner knocked Mount down early in the 1st round in which he was able to recover. Immediately after the round resumed Gardner attacked again and knocked him down, and did it for a third time after he got back up for the 2nd time. After the 3 knockdowns in 30 seconds, the fight was stopped and Gardner was awarded the TKO victory 1:28 into the 1st round.
The rest of the undercard featured high paced action. Landon Horseman had a good debut fight with a unanimous decision victory. After a knockout victory in his debut fight at Battle at the Boat 87, Marcelino Pineda continued where he left off with a TKO, 36 seconds into the 2nd round. Omar Avelar and Carlos Rodriguez also left with victories.
"Battle at the Boat 89 had a bit of everything. There were knockouts, great distant fights, and two world class fighters in the main event that had a very close fight. It was a great show to end our 17th season of fights. The northwest hasn't had this many quality kids turn pro in 10 years and we were able to debut a number of them including two kids who could have very bright futures in boxing. Last night's show showed the return of northwest boxing. It's going to be fun to see who rises to the top," Halquist said. "We now have so many kids to choose from and they all are willing to fight tough. That's great for the most person in the building and that's the guy who's buying the tickets!"
Halquist Productions returns to the Emerald Queen Casino on December 1st with a talent filled MMA card for CageSport XXII. Battle at the Boat 90 opens up the 2013 schedule with the event being held on January 5th.
"Battle at the Boat" remains as the most prominent boxing show in the Northwest, building a reputation over the last 23 years as one of the top brands of boxing on the west coast. Halquist Productions has promoted many world title bouts and their fight cards have been seen on ESPN, HBO and Showtime.
Battle at the Boat 89 – Quick Results
Undercard
Carlos Rodriguez vs. Angel Diaz
Carlos Rodriguez(W) TKO 2:34 Round 1
Vidal Cruz vs. Omar Avelar
Omar Avelar(W) TKO 3:00 Round 3
Jon Jay Mount vs. Darryl Gardner
Daryl Gardner(W) KO 1:28 Round 1
Dex Montenegro vs. Marcelino Pineda
Marcelino Pineda(W) TKO 0:36 Round 2
Landon Horseman vs. Cory Vom Baur
Landon Horseman(W) UD (37-39) 4 Rounds
Semi Main Event
Randell Corpuz vs. Ray Lampkin
Ray Lampkin(W) UD (40-36) (39-37) (39-37)
Main Event
Vitaliy Demyanenko vs. Damian Frias
Vitaliy Demyanenko(W) SP (97-92) (93-96) (95-94)