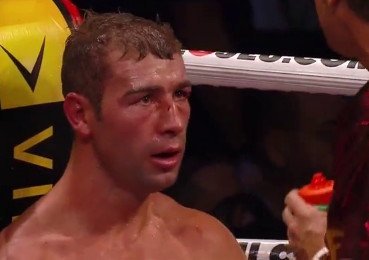 By Michael Collins: Former IBF super Lucian Bute (31-1, 24 KO's) had to really battle hard to defeat previously undefeated NABF light heavyweight champion Denis Grachev (12-1-1, 8 KO's) by a 12 round unanimous decision on Saturday night at the Bell Centre, in Montreal, Canada. The fight was a lot harder than what many boxing fans thought it was going to be and it was strange to see Bute struggling so badly against a fighter that didn't look all that special. The judges scores were 115-113, 118-110 and 116-112.
This wasn't the kind of performance that Bute was looking for to prove that he's ready and capable of defeating IBF super middleweight champion Carl Froch in their planned rematch in the first quarter of next year. Bute was hit often by the 30-year-old Russian and had problems getting out of the way of his shots. Bute made it easy for Grachev by constantly backing up to the ropes and trying to find one big shots.
Bute's trainer begged him to stop giving Grachev so much respect by the mid point in the fight and start fighting him. Bute did a good job of responding to the instructions from his corner, as he definitely took the fight to Grachev in the last six rounds.
In looking at Bute's face after the fight it showed that he really took a great deal of punishment in winning. Bute's face was badly swollen, his nose cut on the bridge and a cut over his left eye. Bute looked like he had been in a life and death fight. Apart from Bute's losses to Librado Andrade and Carl Froch, I had never seen Bute take this much punishment in a fight.
Clearly there's something wrong. It looks like Bute has aged and lost something. That's how boxing is sometime. A fighter is great and then all of a sudden they age overnight and are no longer dominating like they once did. Bute is still a good fighter, but it looks like the competition has caught up to him now.
Undercard boxing results:
Allan Green RTD 7 Renan St. Juste
Mikael Zewski TKO 1 Cesar Chavez
Rodrigo Guerrero TKO 8 Sebastien Gauthier
Francy Ntetu SD 6 Schiller Hyppolite
Sebastien Bouchard UD 4 Glisandy Mejia
Bogdan Dinu TKO 4 Eric Martel Bahoeli
Michael Gadbois MD 4 Pedro Navarrete