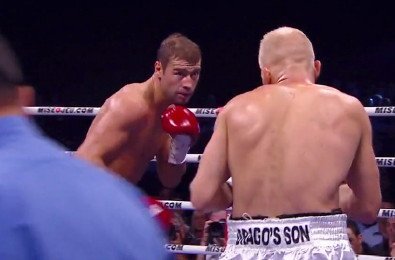 By Michael Collins: Carl Froch thinks that Lucian Bute didn't look great in beating Denis Grachev by a 12 round unanimous decision last night in Bute's win in Montreal, Canada. But Froch believes that it was a situation where Bute needed any kind of win to get over the hump of his knockout loss to Froch last May.
Froch said to Sky Sports News: "Let's be honest, it wasn't the most impressive performance from Lucian Bute that I've ever seen. Bute didn't really impress, but it was a comeback fight from a devastating defeat against myself, so what did people expect? He needed to find his feet again, find his confidence. I'm sure he's done that. I think mentally he needed to get that fight in the bag."
Bute actually didn't look that bad. What was missing from the performance was of course a knockout for Bute. However, he was fighting a guy in Grachev that even Froch likely wouldn't be able to KO. Grachev has a great chin and he doesn't stand in one place and let you punch on him. He moves around and he's a solid guy.
If Froch thinks he would have been able to KO this guy he's kidding himself. Grachev is someone that no one looks good against unless their name is Andre Ward. Bute did a good job on defense. That seems to have been Bute's focus in this fight until the 12th round when Bute let his hands go in a big way for the first and last time.
I'm sure if Froch had been knocked out in his last fight he wouldn't have come out strong against a puncher looking to go toe-to-toe with him. Froch would likely not even face a quality guy like Grachev. Look at who Froch is fighting now. Instead of fighting a dangerous guy his promoter Eddie Hearn has put him in with light heavyweight Yusaf Mack at 168. So you can't really blame Bute for not looking good following a knockout loss and facing a known puncher in Grachev. Bute didn't take the easy route like Froch is with his fight against Mack.