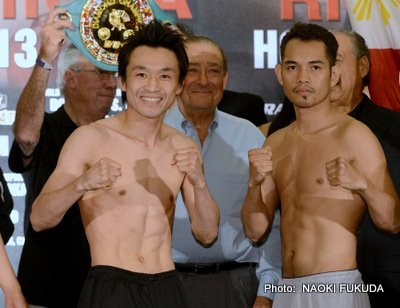 By Stanley Owens: It is quite likely that if you asked a casual boxing fan who they think is the best fighter at 122 they would answer with two words: Nonito Donaire. After all, Donaire is currently ranked at #5 pound for pound in the world by the Ring, not to mention his well-earned reputation as a devastating counterpuncher.
But is he really the best at 122?
His 2007 knockout victory over the notorious Australian slugger Vic Darchinyan catapaulted Donaire to stardom. But that victory occured at flyweight five years ago and while it was an impressive (and brutal) knockout, it doesnt answer any questions about his standing at 122.
Following the Darchinyan fight, Donaire became a household name in the lower weight divisions and continued to win impressively at super flyweight and bantamweight, culminating in a second round knockout victory over bantamweight champion Fernando Montiel in 2011.
Montiel had been a slight underdog leading up to the fight, yet no one could have predicted the sweet left hook that felled him in the second round and left a visible dent in his forehead. Donaire had reminded the world once again why he was ranked pound for pound.
This brings me now to the main topic of my analysis, which is the question of whether Donaire has proven himself the best at 122?
Unfortunately, in my opinion he has not yet proven himself to be the alpha of the pack at 122. An old boxing adage is that 'to be the best you have to beat the best', and this in itself is a difficult task for any fighter in such a talent-packed division.
Donaire's first 122 fight was against Wilfred Vasquez Jr for a vacant WBO title. Vasquez had been TKO'd nine months earlier by Jorge Arce, but he still fought competitively in losing to Donaire by split decision. Next, Donaire scooped up an IBF Title after he beat Mathebula by UD. Finally, in his most recent bout Donaire took on the 36 year old Japanese ring veteran Toshiaki Nishioka who was clearly overmatched as many had predicted in the lead-up to the fight, with Donaire winning easily by TKO despite injuring his left hand.
It is clear that Donaire has proven himself against top ten opponents at 122 in beating the likes of Vasquez Jr, Mathebula and Nishioka. These opponents have been taller than the typical flyweight opponents Donaire was used to fighting, which may account for his lower KO ratio at 122 thus far. He shouldn't have any problems in this regard in his next bout with the legendary, yet possibly ringworn Jorge Arce, who stands at a smaller 5'4.
Donaire has beaten some good guys, but he hasn't yet beaten the baddest guys at 122. He needs to fight Anselmo Moreno, Guillermo Rigondeux, or possibly Abner Mares before he can dominate in the same way that he has dominated lower weight classes. Moreno is currently ranked by Ring at #10 in the world pound for pound. Guillermo Rigondeux isn't far behind either as he is the WBA champion and ranked #1 at 122 by the Ring (behind Donaire who is Champion). Freddie Roach himself has referred to Rigondeux as possibly the greatest talent he's ever witnessed.
There is little doubt that exciting matchups loom on the horizon for P4P superstar Nonito Donaire. Fans must wait for future megafights in this talent-rich division to answer the question that is so often raised: who is the best. Fortunately, we wont have to wait too long for our questions to begin being answered, as the upcoming superfight between Abner Mares and Anelmo Moreno draws near.