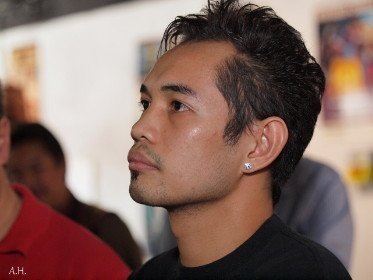 (Photo credit: Adrian Hernandez) By Joseph Herron: In less than a full calendar year's time, four division world champion and pound for pound talent Nonito Donaire (30-1, 19 KOs) has garnered two world titles in the Super Bantamweight division, as well as the WBC Diamond belt and Ring Magazine's distinction as the man to beat at 122 pounds.
So where does the "Filipino Flash" go from here?
After the 29 year old fighter's brilliant performance against former WBC Champ Toshiaki Nishioka on October 13th, HBO's Max Kellerman asked Donaire about a potential meeting with Cuban exile and two-time Olympic Gold medal winner Guillermo Rigondeaux.
While most fight fans were somewhat puzzled with Nonito's on-air response, the southern California based fighter clarified his reply on Tuesday night's edition of "The Pugilist KOrner".
"The only reason why I say Guillermo Rigondeaux isn't ripe yet, is because I want him to be at his best when I fight him," explained Nonito Donaire. "Right now he isn't there yet. He gets tired in the later rounds and he gets caught with punches that he should be picking off. I want to fight him when he's at his best."
"I know he has the potential to be a great professional fighter…I understand that. But he's just not there yet. I'm going to remain at 122 pounds and it really doesn't matter who I fight at this time. I want to fight the best. It could be him, it could be Moreno, it could be Mares…it really doesn't matter."
"I don't choose who I fight. I leave the decision making to my manager Cameron Dunkin. When I request to fight a certain fighter, it doesn't always work out that way. I just fight whoever Cameron puts in front of me in the ring."
Although fight fans might not agree with the methods of world renowned boxing manager Cameron Dunkin, it's hard to argue with the results his practices have yielded.
Nonito has seemingly blown through his competition with relative ease and has captured numerous titles in four different weight divisions since becoming the first man to stop Vic Darchinyan back in 2007.
Nonito trusts the judgment of Cameron Dunkin implicitly.
"Cameron is amazing at what he does. He's the best in the entire fight game. When it comes to management and taking care of his fighters, Cameron is the best. I work hard at what I do and I take care of my business in the ring, but Cameron has played a big part in getting my career to this level. Cameron Dunkin is a fantastic manager."
With few truly enticing names remaining on the Super Bantamweight hit list, is a trip to the Featherweight division in Nonito's immediate future?
"First, I really want to clean out 122," stated the universally recognized Super Bantamweight Champion. "I want to stay in this division as long as there are big fights to be made, and I want to build my body to be able to compete at 126. So there will be plenty of time for the three fighters that I mentioned earlier to come after me. I want to face those guys and I'll be ready to fight Moreno, Mares, and Rigondeaux."
"But if we could make the Gamboa fight at 126 pounds, that would be incredible. I wouldn't be interested in fighting Orlando Salido at this time, because my teammate Mikey Garcia has his eye on him right now. That's not going to be a target that I'll be going after because that's Mikey's guy. We all have respect for each other and the Garcias have their sights set on Salido. It's just the kind of respect that I have for the Garcias. They are amazing people."
"As far as making my way to the Featherweight division, I'm definitely going to build my body up to eventually fight at 126 pounds. But in the meantime, if I can get Mares, Moreno, and Rigondeaux out of the way before moving up in weight, I would really like to do that."
But before Nonito considers fighting anyone on the boxing horizon, the gifted pound for pound fighter has to rectify the recent problems he's experienced with his left hand.
Throughout the history of boxing, we've seen many fighters riddled with hand problems in their respective careers. Will Nonito's injuries become reoccurring, or will the hand problems be corrected and isolated?
"While training for the fight with Nishioka, I had to take a break from camp for two weeks because of the injuries to my left hand. The only time I hit anything with the left hand during training was in sparring. I was having to work a lot with the right only because I couldn't really hit anything with my left."
"That's why leading into the fight during press workouts, you could see a bandage on my left hand. There was a wound that could open at any moment. Even before the fight while warming up, I knew that the wound on my left hand had opened up just by hitting the mitts. So it was already opened going into the fight, but it didn't get really bad until I landed the uppercut in the sixth round that floored Nishioka."
"That's when my hand felt like I couldn't hit anything. That's why I slowed down in round seven and eight. I had to make a conscious effort to set up the right hand and I eventually stopped him with it."
Whether or not the injury is reoccurring, Nonito claims that ailments of this nature merely come with the territory of being a prizefighter.
"This is what happens when you fight and your hardest punch comes from your left hand. I simply see this as an occupational hazard. When you hit something with a great amount of pressure, your hand is going to split open. Either your bones are going to break or the surrounding tissue is going to be damaged…it happens in boxing."
"Many fighters before me had these same problems and they fought through it, so you're not going to hear me complain about it. I'm willing to endure an injury like this. I'm a true warrior when it comes to pain, so I'm ready for anything that comes with the role of being a professional fighter."
Indeed, Nonito Donaire is always willing to do whatever it takes to please his fans and the fight public in general. The talented young fighter thrives off of the support from his fans.
"My goal is to do whatever it takes to be successful in the sport of boxing and my fans have been incredible in supporting me. That's what matters most to me. If they're happy, then I'm happy with what I'm doing. I'm honored that people notice me and ask for my autograph. It's an incredible feeling and I am very thankful for all of their support."