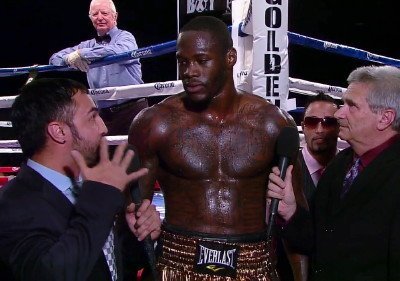 By Michael Collins: Former 2008 heavyweight Olympic bronze medalist for the United States Deontay Wilder (24-0, 24 KO's) see a fight between him and undefeated heavyweight contender Tyson Fury (19-0, 14 KO's) as a possibility in the near future once the 24-year-old Fury stops being afraid to face him. Wilder has been calling out Fury for the past few weeks but has largely ignored by the 6'9″ Fury. That's not stopping Wilder from continuing to talk to try and get him in the ring.
When asked if a fight between him and Fury was a possibility, Wilder told boxingopinion1.blogspot.com "He could definitely be a potential opponent for me. I'm a type of fighter that gives fighters nightmares, just the thought of potentially fighting me. So once those fears have been overcome [by Fury] and when that happens there will be a fight."
I hope Wilder doesn't hold his breath waiting for Fury to suddenly show interest in fighting him, because it appears that Fury doesn't really want the fight. Fury has been fighting guys like Martin Rogan, Vinny Maddalone, Neven Pajkic and Nicolai Firtha as of late. A fight against Wilder would obviously fit in well amongst those fighters, but Fury seems to not want the fight. Fury is hoping to get former WBA World heavyweight champion Ruslan Chagaev in the ring this November if the fight can be put together. Chagaev, #7 WBA, has a high ranking by the World Boxing Association and it will in theory help Fury get better.