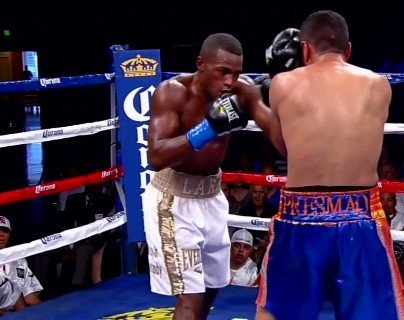 By Joseph Herron – Top Rank has generated yet another big double headliner, featuring two of the most long awaited and fan friendly match-ups in boxing.
Current WBO Featherweight Champion Orlando Salido (39-11-2, 27 KOs) will put his title on the line against undefeated challenger Mikey Garcia (29-0, 25 KOs) in the main event of the evening, and Vanes Martirosyan (32-0, 20 KOs) will square off against crafty southpaw Erislandy Lara (17-1-1, 11 KOs) to finally decide the WBC Junior Middleweight mandatory challenger position in the highly anticipated co-main event.
This amazing fight card is slated to be held at the Wynn Las Vegas on November 10th, and will be broadcast on HBO "Boxing After Dark".
Fight scribes and boxing fans alike have clamored to see the two proposed match-ups for quite some time, and the action in the ring should answer many questions surrounding all four combatants.
While most fans of the sport have been waiting for the Oxnard, California resident to compete for a major world title, boxing pundits are wondering if Garcia is truly ready for a fight of this magnitude.
Brother and manager Robert Garcia insists that Mikey will be more than ready for his first World Championship opportunity.
"My brother is very dedicated," states the elite level trainer. "He's a very smart fighter and he's going to surprise a lot of people on November 10th. He's ready for Salido. Mikey's ready to become a world champion."
Although Robert is extremely confident that his little bro will be successful in winning the WBO Featherweight title, the lifelong boxing proponent realizes how difficult a fight with Salido will be.
"I know Salido is a very tough fighter, and we've seen what kind of power and experience he brings to the ring. We have a lot of respect for everything he's done in his career, but Mikey will prove on fight night that he's in a class by himself at 126 pounds. Mikey isn't looking past Salido, but we plan to clean out the division and unify the titles after we take care of business on November 10th."
In the co main event of the evening, Junior Middleweight contender Vanes Martirosyan will take on Cuban exile Erislandy Lara to determine the mandatory opponent for Canelo Alvarez's WBC belt. While "The Nightmare" is thrilled about facing one of the more talented fighters in the division, Vanes admits that he isn't really concerned about his match being a WBC title eliminator.
"The politics of boxing is crazy," states the 26 year old fighter. "I'm not worried about becoming the WBC title challenger because a fight with Canelo will be very difficult to put together with me or Erislandy. I'm just really excited for the fans that we get to see two of the best fighters in the division finally get in the ring to provide some clarity in a very crowded weight class."
While no one has ever doubted the Armenian native's abilities in the ring, many of his detractors have questioned his willingness to compete with the best fighters at Junior Middleweight. Vanes claims that he's most excited to finally answer his detractors with a dominant performance against a top ranked 154 pound fighter on the biggest stage of boxing.
"Contrary to popular belief, this is a fight that I've wanted for a long time. I'm very excited to be in the ring with Lara, and I'm glad it's going to be on HBO so everyone can see me work. I know I have a lot of critics who think otherwise, but it's going to be so sweet when I prove my detractors wrong."
"This is boxing and I love it. I know there will always be haters and non believers, which I'm fine with. But everyone who has doubted me in the past is going to be in awe when I beat Lara decisively."
The talented young technician sends a heartfelt message to his fans and naysayers alike:
"My fans are the greatest and I love them a lot. I will always give my best effort to win for them. I also know after November 10th, I'm going to have four times the amount of fans I had going into the fight with Lara. So to my existing fans, thanks for all of your continued support…you guys are the greatest. To all of my fans after November 10th, welcome aboard!!"