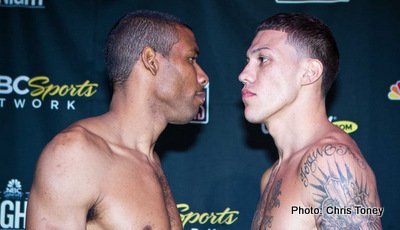 By Joseph Herron: "One secret of success in life is for a man to be ready for his opportunity when it comes." – Benjamin Disraeli (1804-1881)
In an era where massive scrutiny is placed on a single blemish within a fighter's resume, 26 year old Gabriel Rosado (20-5, 12 KOs) has been quietly climbing up the Junior Middleweight ladder one performance at a time.
After turning pro with minimal amateur experience at the age of 20, the Philadelphia puncher has been hard at work; mastering his craft while learning on the job. Although the perpetual student owns a resume with five losses, including a humbling defeat at the hands of Alfredo Angulo in 2009, Rosado currently finds himself just one step away from a world title opportunity.
But the "King" admits it hasn't been easy.
"Although I've always been a fan of the sport, I didn't try to get involved with boxing until the age of 18," claims Gabriel Rosado. "When I finally got the nerve to get started, the guy who ran the gym told me I was too old and that I should stick to playing basketball; so I just walked away."
Luckily for the Philly native, Gabriel's natural athleticism caught the eye of a local fight trainer.
"When I left the gym, my trainer and friend Billy Briscoe followed me out and caught up with me on the street. He told me to come back the next day and so I did…we've been working together ever since."
After only eleven amateur bouts, the talented young fighter decided to turn pro at the age of 20.
"Without a lot of amateur experience, I knew I would be learning on the job. I had raw talent, but I was still green. I knew I had the heart and the discipline to compete, but I just wasn't seasoned during the early stages as a professional. So my record is a bit deceiving."
Over the last two years, the hungry young fighter has seemingly "put it all together" in the ring. Rosado has looked impressive, winning six consecutive bouts; four by way of sensational knock-out.
Going into his most important fight to date, "King" Gabriel has the mentality of an unbeaten fighter.
"I know I've had some growing pains along the way, but at this point I truly feel like I'm an undefeated fighter. I feel so confident going into this fight. I really think there isn't a 154 pound fighter who can beat me right now."
"I know I'm only 26, but I feel like I've already experienced a great deal of adversity, and I feel like I can go a long way in the sport. So I'm proud of my twenty and five record. I feel like I've arrived at this point, not by way of politics, but because I've truly earned it."
On Friday, September 21st, at the Sands Resort & Casino in Bethlehem, PA, Gabriel will get to test his mettle against dangerous fight veteran Charles Whittaker (36-12-2, 21 KOs) in the main event of a televised fight card on NBC Sports Network; which is also an IBF title eliminator contest.
Although the intrigue of a title fight with Canelo Alvarez or K9 Bundrage will be on the minds of his handlers, Rosado claims that his motivation will be solely on Whittaker this Friday night.
"Because of everything I've been through to get here, I'm a strong fighter with a strong mind. I realize that there is no title fight without a win against Charles Whittaker on September 21st. So my entire focus is on my opponent."
"Whittaker is a 38 year old fighter who will probably come into this fight with an 'all or nothing' type of mindset. So this guy's going to come prepared like it's his last chance to fight for a world title. I can't afford to look past an experienced fighter like my opponent. I have to concentrate fully on Whittaker to win."
But according to the young boxer/puncher, simply getting the win won't be satisfactory while fighting in the main event of a nationally televised event.
"I usually don't make predictions before any fight, but this bout with Whittaker won't go past six rounds," insists Gabriel Rosado. "I'm not saying this to be cocky, but I'm so hungry and so determined right now. I'm going to step on the gas during every round of this fight."
"I really want to make a statement on Friday night. The fans want to see knock-outs; and at the end of the day, we're entertainers. I definitely will do whatever it takes to win, but I train to dominate on fight night. This is why I work so hard in the gym. I always want to win by knock-out because this is what the fans want to see."
With very few televised bouts scheduled on September 21st, all eyes of the boxing world will be centered on Rosado's title eliminator bout with Charles Whittaker.
"King" Gabriel insists that he is ready.
"I feel like everything is coming together for me at just the right time. Everything that I've been through has prepared me for this moment and I feel so confident and so strong going into this fight. I really feel like this is my time in boxing."