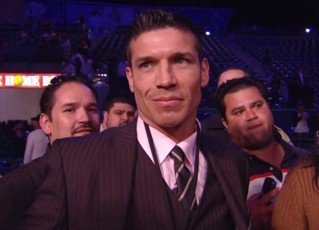 By Rob Smith: American Tony Weeks will be the referee for the September 15th fight between WBC junior middleweight champion Julio Cesar Chavez Jr. (46-0-1, 32 KO's) and Sergio Martinez (49-2-2, 28 KO's) in their fight on HBO pay per view at the Thomas & Mack Center in Las Vegas, Nevada. Weeks has a good reputation for letting the fighters fight without constantly getting in the way, breaking the fighters and penalizing like some referees. His presence should not impede the flow of the fight thankfully.
There's not much for Weeks to really watch for in this fight other than Chavez Jr. perhaps using his size and weight advantage to push/bump Martinez to force him to the ropes. Chavez Jr. will likely be the much heavier fighter on fight night on September 15th, and if he weighs in at 180 lbs or more, it will give him a big enough weight advantage over Martinez to where he'll be able to bull around the ring like he did against Marco Antonio Rubio. Martinez is expected to come into the fight around 165 lbs like he normally does.
Chavez Jr's size advantage might not matter, though, unless the ring is really tiny like it was in Chavez Jr's last fight against Andy Lee last June in El Paso, Texas. If it's a normal sized ring then Martinez will be able to move around to avoid Chavez Jr's attacks. Even if it's a small one.
Martinez still might have enough room to out-box Chavez Jr. in the first half of the fight. It's likely that Martinez will look to box Chavez Jr. early on and then take him into the deep end in the 2nd half of the fight to try and shoot for a knockout like he always does. Chavez Jr. is vulnerable late in his fights because he wears down due to his huge size for the middleweight division.