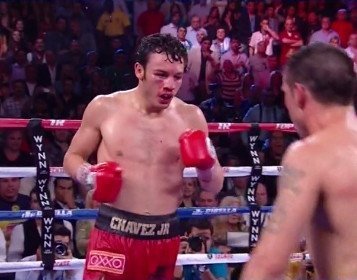 By Marcus Richardson: If WBC president Jose Sulaiman gets his way there won't be an immediate rematch between former WBC middleweight champion Julio Cesar Chavez Jr. (46-1-1, 32 KO's) and newly crowned WBC champion Sergio Martinez (50-2-2, 28 KO's) in early 2013. Sulaiman says that the WBC doesn't allow immediate rematches for one-sided fights like the September 15th fight where Chavez Jr. took a real pounding in losing by a lopsided 12 round decision to the 37-year-old Martinez.
Sulaiman said to fightnews.com "The WBC is not in favor of immediate rematches, unless there is overwhelming public demand due to some unusual circumstances in the first fight. The fight was one-sided…There was no unusual circumstances to necessitate an immediate rematch."
Of course there wasn't. It's painfully obvious that this is just an opportunity for Chavez Jr., Martinez and Top Rank to make a lot of money in a rematch that could take place at the Cowboys Stadium in Texas. It's not a fight that's in high demand but rather a fight that would do well because all of Chavez Jr's fights do well. Id venture to guess that Chavez Jr. could fight at the Cowboys Stadium against pretty much any middleweight in the division and the fight would pack in at least 40,000 fans and do well on HBO pay per view.