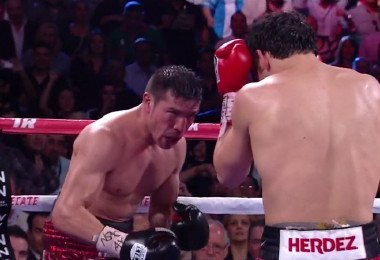 By Ted Spoon: Rating fighters before they've retired is a good crack. When boxers add another chapter to their legacy the fanatics usually pipe up, involuntarily summoned to criticize or praise. And with these two extremes accounting for 90% of support it can make you feel obligated to say something that could be interpreted as objective.
Sergio Martinez is, at the time of writing, at that tender junction having just turned back another challenge. With the bout not yet adequately arranged in time we can't be sure of its worth. The defeated could go onto do nothing of note, consequently reducing its significance, or, conversely, he could go onto achieve great things, polishing the victory with each successive win.
A good way to get our bearings would be to say from the offset that Sergio is certainly not in the same company as a Marvin Hagler or Marcel Cerdan. Of course, that's hardly a 'diss'. The Argentinean is closer to a Tony Zale with the opportunity to nudge himself into a higher consensus.
This opportunity however won't be forth coming.
As it stands the most feasible defining fight that could be made would be against 168lbs wizard Andre Ward. Irrespective of weight, many believe (with good reason) that Ward may be a bridge too far, but if it was to materialize then Martinez would probably have to make the sacrifice and gain some weight.
An even less likely scenario would be for Floyd Mayweather to put on a stone.
Citing those 37 years and boxing's difficulty in arranging big fights, chances are Martinez will live out the rest of his fighting days prowling the 160lbs scene.
So what to make of everything thus far?
So much has changed since Sergio outfoxed Britain's Richard Williams back in 2003; Lennox Lewis had yet to retire, Bernard Hopkins was unfamiliar with Jermain Taylor, and we all still had faith in Roy Jones Jr. Martinez had only turned pro at the tail end of '97, and that's why he was a busy bee; 30 bouts in 5 years is good going.
An early loss to Antonio Margarito remains little more than interesting trivia. The slow-stalking Mexican had been pro since '94, and it would be fair to assume that Toni was similar to beer when Martinez has proven to have more in common with wine.
After briefly plaguing British soil he fell off the radar. A stint in Spain ended with a trip back to the States. Success was on the horizon, but not after some bizarre misfortune.
A majority draw with the dangerous Kermit Cintron was, to put it mildly, a poor decision. Somehow coaxing his way out of a knockout defeat, a negative Cintron was gifted the last round when Martinez was deducted a point for hitting behind the head (just as much Cintron's fault for ducking). In round seven he was floored by a clean left which he claimed to be a head-butt and the referee went against his own ten count.
Even with the sloppy officiating you'd have to be rather drunk to score it a draw. Sergio could only smile at the decision – it was ridiculous.
Looking for a soft spot was the last thing on his mind and so Sergio was happy to see fearsome Paul Williams sign the dotted line.
Both were down in the first and a stirring encounter developed which went the full twelve. This time Martinez was a majority loser. It wasn't a terrible decision even though Martinez had landed the sharper stuff, but Pierre Bonoist's insane score of 119-110 gave you the sense that Sergio wasn't wanted in America.
He could only smile again.
Today things are very different, but it's good to remember that these altercations would have dug many a competitor their grave. Two disappointments in a row were exactly the kind that ex-bruisers endlessly recall during retirement. 34 year old Martinez could have grown weary, and so the fact he came back behind that snaking jab is admirable in itself.
A chance to win the middleweight belt came against the gangling Kelly Pavlik. You can guess who the crowd favourite was, and after eight rounds an early lead was gobbled up, but Martinez showed his class when he pushed the tempo and struck claret. There was no funny business with the scores which gave the middleweight division its new kingpin.
More importantly, this led to that much sought after rematch with Williams.
In the first they picked up where they left off, but in the second the iron-chinned punisher was laid out. Nothing could have prepared anybody for the swift left that cut out an angle and smashed its way through Paul's jaw who was looking good at the time.
Even now we don't think of Martinez as a big puncher, but the KO over Williams will remain one of the truly great one-punch knockouts. Dizinziruk, Barker and Macklin were not outstanding defences, respectable, but not one heard the final bell. Certainly in the performance category Sergio has been mighty impressive.
This brings us to his latest defence against another capable (though generally unproven) champion in Julio Cesar Chavez Jr. Following 11 one-sided rounds a tired Martinez was given his biggest scare to date when Julio decked him; unlike the Williams or Pavlik knockdowns he was genuinely hurt.
Still, many have looked into this more than they should have. The fact is Martinez got up and fought back.
It is unfair to postulate what would have happened had a better finisher been in there because that is assuming this 'better finisher' would still be there after 11 rounds. Chavez fought a steady fight against a champion who was pulled up on his low guard. Had Julio started quickly he may have got himself stopped; maybe he would have done better, but it's no secret you've got 36 minutes to make it happen.
A positive attitude made sure Martinez hit the big time and silky skills have kept him there. Nothing he does leaves you with that daunting impression, the kind a Thomas Hearns or Roy Jones could, but after a while you realise Sergio's greatest strength – his versatility.
To the casual eye not much appears different. Low hands, a flicking jab and lots of movement characterize the Martinez mode of fighting, but it's those subtle differences that have gotten the best of everyone.
It's not always picture-perfect with Martinez, but it's a tribute to his intuition that most of what he does serves a purpose. Walking you onto punches, using the shoulder, spinning you; he isn't Willie Pep in there, but Sergio's not half bad at using the ring. Many agitated corner men have insisted that he is on his bike and will tire only to watch him pump out combinations in the dying moments.
Versatility is again the word on the point of punching. You can guess what Martinez will throw, but from where and how is the $64,000 question. The left itself is an ambiguous weapon, thrown straight, overhand, as a lead or in close. A pestering type of jab comes from the waist, but Martinez does fire hurtful ones, often at the side of the head as he circles.
Head-to-head, Sergio is probably something of a dark horse – a boxer you'd expect to do well against the elite, but upsets wouldn't surprise. You could say that he's not great at any one thing, or that he's been down a few times, but minor gripes are guilty of overstating. There have been few middleweights who were as resourceful as Maravilla is – in that sense he is a marvel.
If he is to lose (and Mother Nature isn't the culprit) it's going to take a special fighter to turn the trick.
Having once dedicated a bout to Vernon Forrest (somebody he didn't even know), Martinez is a veritable Mahatma Ghandi compared to Carlos Monzon. Of course, fighters don't get personality points, and Martinez would happily inform you that he is simply not as good as his towering predecessor.
But now what kind of gauge is that?
Greatness isn't far away, and Sergio isn't finished.