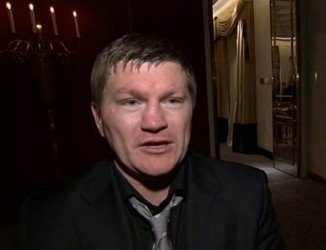 By Padraig Ivory: I once saw a black and white photo of Ricky Hatton as he lay unconscious after his last bout in 2009. His ripped abdominal muscles almost gave a cobblestone appearance to the Las Vegas canvas. It was a devastating knockout of the raucously supported English favourite. Now three years later 'The Hitman' is preparing both physically and mentally to re-enter the boxing ring.
Envision the early runs. The dew unevenly evaporating from the terrain as the nights shadows slowly recede. The footpaths appear two toned, the white frost fading towards the kerbs edge. His warm breath vaporising as it meets the cooler morning air. The thoughts and dreams of the former champion oscillating to and fro as he paces the city streets.
Turning by Victoria Station he automatically decelerates to a slow jog. Nostalgia weighs heavy. The blurring figure of a younger Ricky Hatton running that same street overtakes the now 33 year old. Inspired by the vivid memory he speeds up, chasing his younger image.
The route courses by the site of the old MEN Arena. As he reaches the home of his most famous victory the faint chorus of 'There's only one Ricky Hatton' is still echoing from the recently renamed Manchester Arena.
The Pacquiao disaster was awarded the ring magazine's knockout of the year honour. For Hatton it proved a 3 year knockout. The much speculated return of the Mancunian fighter gained momentum with every pound shed over the last few weeks. Slowly the familiar fighting frame of the former undisputed champion was breaking through. The speculation ended earlier this month when the much anticipated announcement was made via press conference.
His emergence from pseudo-retirement immediately sounded the bugle summoning the Hatton Army to reassemble. They duly answered the call and the 21,000 seater venue had sold out banners erected before his 48th opponent's name had even made print.
Senchenko is a clever crutch in Hatton's career rehabilitation. The Ukrainian owns an aesthetically pleasing record of 32-1 and conveniently wears the transparent former world champion belt to the ring. Critically however, he has overcome a lower level opposition to achieve his merits in comparison to the Englishman. In addition the lack of serious knockout power will be welcomed by Hatton fans as the memory of his last outing haunts all concerned.
Come November 24th Hatton will need to be both mentally and physically equipped for battle. Let's hope when the opening bell sounds in the Manchester Arena that Ricky Hatton is not left chasing the shadows of his past.