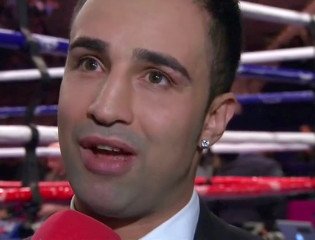 By Michael Collins: There's no question that Ricky Hatton (45-3, 32 KO's) is feeling pretty bad right about now after being stopped in the 9th round last Saturday night by former WBA World welterweight champion Vyacheslav Senchenko (33-1, 22 KO's) in front of his own fans in Manchester, England. That had to be painful experience for Hatton in more ways that one.
However, one person who was probably hurt even more by Hatton's loss is WBA 147 lb champion Paulie Malignaggi, who was hoping to give Hatton a chance at his title in a rematch. This was going to be a big money fight for Malignaggi and the money that he could have gotten for that fight would have likely set him up for life. Now that opportunity is gone due to Hatton losing to Senchenko and then immediately retiring rather than choosing to try and learn something from the defeat.
If Malignaggi still wants the fight with Hatton he's going to have to try and convince him to still make the fight, although I don't see there being much interest in the fight outside of the UK and the hardcore boxing community. Malignaggi wouldn't be able to have his WBA title on the line, and the fight would be like an exhibition bout rather than a real fight.