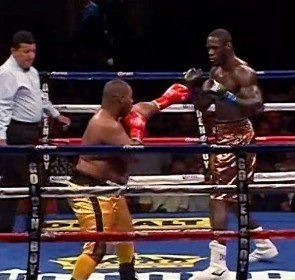 By Rob Smith: Golden Boy Promotions CEO Richard Schaefer is saying that unbeaten heavyweight prospect Deontay Wilder (25-0, 25 KO's) is being slated to get back in the ring on December 15th in a fight that would wind up being televised on Showtime. There still isn't an opponent picked out for Wilder for that date, but unbeaten Bryant Jennings (15-0, 7 KO's) is a slight possibility for that fight.
Jennings, Wilder and Main Events have been battling back and forth on twitter since last night with an offer being made from Main Events, Jennings' promoter, to Wilder's promoter at Golden Boy. The offer made for the fight was $20,000, and Schaefer doesn't look as if he's going to accept that.
Wilder's trainer Jay Deas said to RingTV "There's room for negotiation, and that's something we'll explore but there would have to be a lot of negotiation."
A fight between Wilder and Jennings is a win-win fight for both guys. The winner of this fight could find himself ranked in the top 15 and would get his name on the boxing map. The loser could at least learn something from the fight and that could potentially help him.
If Jennings doesn't get the fight then Golden Boy is going to have to find a reasonable opponent for Wilder to take on if the fight really does wind up on Showtime. Wilder, 26, needs to start fighting better opposition because he's being matched up with consistently shorter heavyweights who look badly out of shape in many cases. It would be a dangerous fight for Wilder if Golden Boy were to agree to Main Event's offer for the Jennings-Wilder fight, not because Jennings is the greatest heavyweight since sliced bread but rather because of how incredibly poor Wilder's opposition has been during his four-year pro career.
Wilder seems to be on the Julio Cesar Chavez Jr. path of development with Wilder facing weak opponents over and over again while building up an inflated resume. The weak opposition has paid off in some ways for Wilder, because he does look a lot better than he was four years ago, and he's learned how to use his left hand to where he throw it with respectable power. However, Wilder's defense still looks bad at this point and it's really not all that surprising because he's been knocking everyone out in the 1st and 2nd rounds. He's not been given the chance to improve his defense because none of the weak opposition he's faced has been able to take him deep to test his chin.