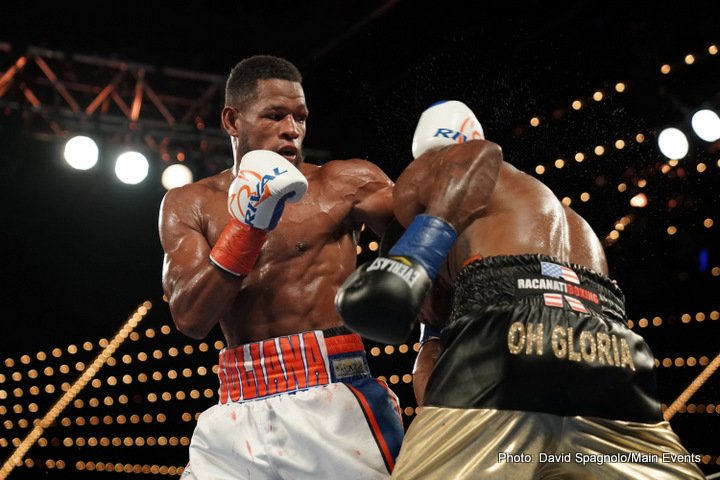 Sullivan Barrera (21-1, 14 KOs) of Guantanamo Bay, Cuba and Felix Valera (162, 13 KOs) of Santo Domingo, Dominican Republic scored knockdowns in the first round.
In the second round, Valera began to taunt Sullivan with his antics but Barrera countered with hard shots that put a quick end to the showboating. However, Barrera suffered a cut over his left eye that started to swell in the second round. Shortly after the bell rang to start the third round, Valera hit Barrera with a low blow that cost him a point on the judges' scorecards.
Both fighters continued to trade hard shots over the next few rounds. In the sixth, the action continued to intensify and referee Mike Ortega deducted another point from Valera for hitting Sullivan with the second low-blow of the night. The low blows continued in the eighth and the referee took another point away from Valera. However, at the start of the ninth round, it was Barrera who lost a point for a low blow. This exciting grudge match continued into the tenth and final round with both competitors trading big shots. At the end of ten exciting rounds, the judges all scored the bout in favor of Barrera (98-88, 97-90 and 97-89).
"It was a tough, awkward fight," explained Barrera. "I have beaten two of the three light heavyweights shown on HBO. I'm just waiting to finally get the opportunity I deserve."
The live HBO telecast began with a controversial decision between Yuriorkis Gamboa (28-2, 17 KOs) of Miami, Florida and Jason Sosa (20-3-4, 15 KOs) of Camden, New Jersey. Despite a deducted point for holding in the tenth, Gamboa was declared the winner by majority decision after ten hard-fought rounds. The scorecards varied widely for this bout. One referee scored the contest 94-94. The other two judges scored the fight for Gamboa 95-93 and 96-92.
In the ring following the fight the two fighters had this exchange:
Gamboa: "I'm sorry I didn't give you a better match. I only had 3 weeks to prepare."
Sosa: "That's boxing"
Gamboa: "You gave a great fight. You have a great heart."
Sosa: "I was a fun fight. I took some breaks but I thought I did enough to win. I know I did enough to win the fight. I didn't get hurt at all during the fight. I spar with middleweights so that was nothing."
Gamboa: "It was a good fight. I didn't have enough time to train. I only had three weeks. I didn't have time to get ready. I needed 2 or 3 more weeks to lose the weight correctly. Of course the decision was good. I think I won every round. Except for the knockdown and the point deduction."