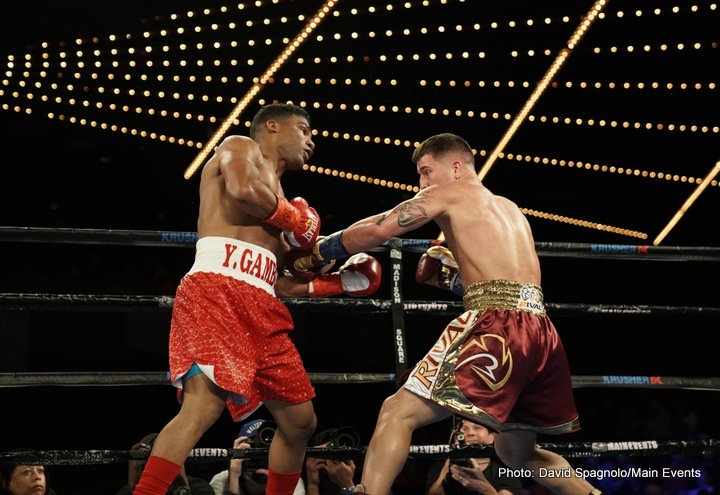 Going into last night's super-featherweight fight with Jason Sosa, one-time potential superstar Yuriorkis Gamboa was under no illusions: it was a fight he had to win or his career was over. Well, the former WBA and IBF featherweight champion got the win, but it was mighty close. And controversial.
Gamboa faced a determined former WBA super-featherweight champion in Jason Sosa and after ten rounds the New York crowd firmly felt the younger man's hand should have been raised. Instead, 35 year old Gamboa (the Cuban will turn 36 next month) was awarded a ten-round majority verdict after an exciting, drama-filled bout.
Winning by scores of 96-92 and 95-93, the third judge scoring the fight all even at 94-94, Gamboa improved to 28-2(17). 29 year old Sosa, who was stopped by Vasyl Lomachenko in his last fight, falls to 20-3-4(15).
Boos rang out as the decision was announced, the large crowd clearly feeling Sosa had done enough. It was certainly a close fight and a strong argument can be made how Sosa did deserve the victory. Sosa was the aggressor, he scored a knockdown in round-seven when Gamboa's gloves touched down, and the younger man saw Gamboa lose a point in the tenth-round when Gamboa was penalised for holding.
Despite all that, Sosa went home unhappy.
"That's boxing. It was a fun fight," Sosa said after losing his second fight on the bounce. "I took some breaks, but I thought I did enough to win. I know I did enough to win the fight. I didn't get hurt at all during the fight."
As for Gamboa, who was originally supposed to meet Robinson Castellanos (the man who upset Gamboa via TKO in May of this year in an upset) in a rematch, he said he felt he had won clearly.
"I'm sorry I didn't give you a better match, I only had three weeks to prepare," Gamboa said. "I needed two or three weeks more to lose the weight correctly. Of course the decision was good. I think I won every round, except for the knockdown and the point deduction."
Not too many people agree with this, but Gamboa, who is still an exciting fighter, moves on – he hopes to another world title fight. The Olympic gold medal winner remains a big name and an attraction but Gamboa is far from the awesome talent he once was.