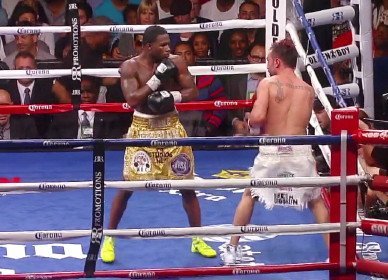 Marcos Maidana (34-3, 31 KO's) is the mandatory challenger for WBA welterweight champion Adrien Broner (27-0, 22 KO's) and he's waiting to hear if Broner will choose to fight him or give up his newly won WBA title. Broner is going to have to make a decision soon because he can't just sit on the title. Maidana doesn't care either way.
If Broner gives up the title, Maidana will likely face the winner of the Keith Thurman vs. Diego Chaves for the vacant WBA title. If Broner decides he wants to take the risky fight against him, then Maidana is ready and looking forward to fight him.
Maidana's manager Contursi said in an interview with ESPN's Dan Rafael "As the WBA mandatory challenger since last year, Maidana definitely wants to fight Broner next, and I let both Richard [Schaefer] and Al [Haymon] know that. Richard and Oscar De La Hoya told me they also want that fight."
Maidana may not get the fight against Broner, but he will get the fight for the WBA title once Broner chooses to let it go. It's likely Broner won't choose to defend the belt given how weak and poor he looked against Paulie Malignaggi last Saturday night in beating him by a 12 round split decision in Brooklyn, New York.
Broner barely won that fight, and his power was nowhere to be seen. Malignaggi landed a lot of shots in that fight and had he more power, he would have given Broner major problems for as long as it lasted.
Broner has to make up his mind whether he wants to keep the WBA title or not. He seemed to give a pretty big hint about the direction he's going to go in his next fight when he said after the Malignaggi fight that he wants to go after more champions in lower weight divisions. This could mean that we'll be seeing Broner give up the WBA 147 lb. title rather than taking on the dangerous Maidana.