Share the post "Golovkin destroys Macklin in 3rd round; Oosthuizen-Gonzales ends in draw"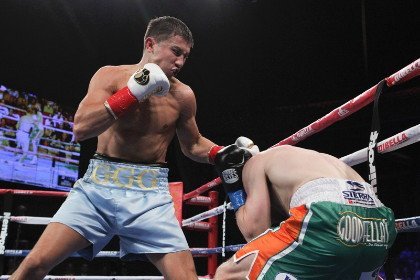 (Photo credit: Dibella Entertainment) WBA middleweight champion Gennady Golovkin (27-0, 24 KO's) made easy work of Britain's Matthew Macklin (29-5, 20 KO's) in stopping him in the 3rd round on Saturday night at the MGM Grand at Foxwoods Resort, in Mashantucket, Connecticut, USA. The end came from a left hand to the midsection that sent Macklin down face first on the canvas.
Macklin then stayed down for the full count. The fight was then stopped by referee Eddie Cotton at 1:24 of the round.
Golovkin methodically beat Macklin down in the three rounds, nailing him with monstrous shots over and over each time he'd catch up to him to land. Macklin started off trying to mix it up with Golovkin in the 1st round, but after getting shook up with a right hand, Macklin got on his bike and moved for the rest of the fight.
You could see how the shots effected Macklin when they would land because he was in distress, turning red and trying hard to not get nailed. That shot seemed to change whatever ideas that Macklin had in trying to exchange with Golokin because from that point on, Macklin was in the survival mode.
In the 2nd round, Golovkin nailed a sweeping right hand that sent Macklin against the ropes.
What's interesting about this fight was that Golovkin's purse was only $350,000 and Macklin's $300,000. Golovkin deserves to be paid better than this.
This win pretty much makes Golovkin the premier middleweight in the division. It took Sergio Martinez 11 rounds to stop Macklin last year, and it was not an easy fight for Martinez at all. Martinez was dropped in the fight and he took a lot of hard shots from Macklin before stopping him in the 11th. In contrast, Golovkin made easy work of Macklin in stopping him tonight.
***
Other boxing action on the card:
Thomas Oosthuizen draw 10 Brandon Gonzales
Willie Nelson UD 10 Luciano Leonel Cuello
Danny O'Connor UD 8 Hector Munoz
Luis Rosa UD 8 Jose Angel Beranza
Dusty Harrison UD 6 Ben Akrah
Share the post "Golovkin destroys Macklin in 3rd round; Oosthuizen-Gonzales ends in draw"