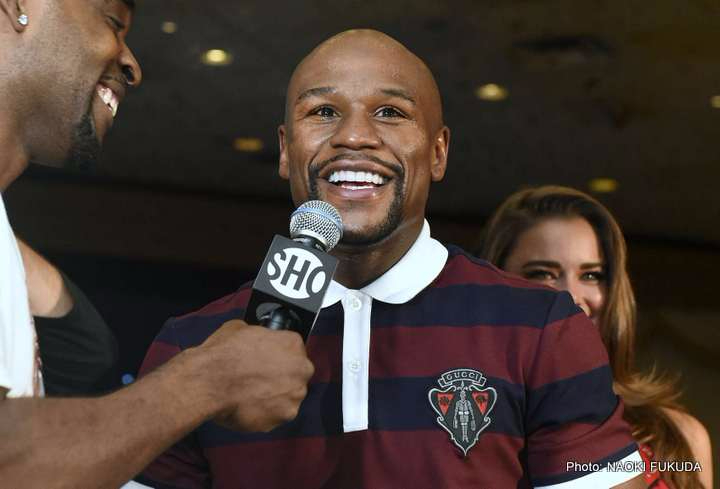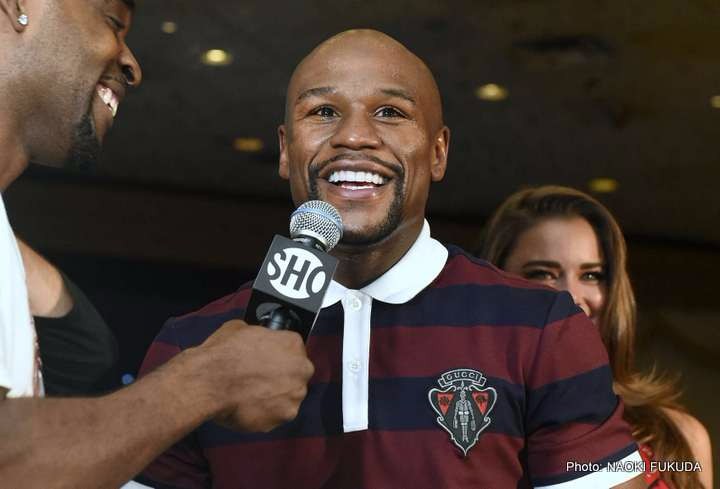 Retired superstar Floyd Mayweather Junior may not have sold as many tickets as he had hoped on his UK Victory Tour, but the 49-0 great known as "Money" says he has had a good time "touching so many fans" whilst here in the UK. On the Manchester leg of the tour, Mayweather – who will soon celebrate his 39th birthday and insists he has no urge to fight again – said yesterday he had nothing but respect for the city's favourite fighting son, Ricky Hatton ("a hell of a fighter with a big heart") – while Floyd also revealed to The Manchester Evening News how he bet on Tyson Fury to score that shocker over Wladimir Klitschko back in November.
Mayweather, an avid gambler who can afford to put his money where his mouth is, won money on that fight, yet he says he is not so sure where to place his cash when it comes to the heavyweight extravaganza he and the rest of us want to see: Fury against WBC king Deontay Wilder.
"I've only seen him fight once and I'd never seen him before, but I bet on him because it was good odds," Mayweather said of Fury. "We have a heavyweight over in America making a lot of noise called Deontay Wilder, and that would be a good fight. Deontay is a heavy hitter and a tough opponent, so I don't know who I would bet on in that fight."
Mayweather is not alone, with most fans capable of making a good argument for a Fury win and for a Wilder win. These two, it seems, are destined to clash in the ring; if not this year, then next year. And when the biggest star in all of boxing (albeit a retired megastar) wants to see a fight, you know it's a big one. Fury must first get past Klitschko in their still to be finalised return meeting, while Wilder is close to nailing down a May date with his long overdue mandatory, Alexander Povetkin.
Both of those are good, intriguing fights. But a Fury Vs. Wilder showdown has a really nice ring to it!