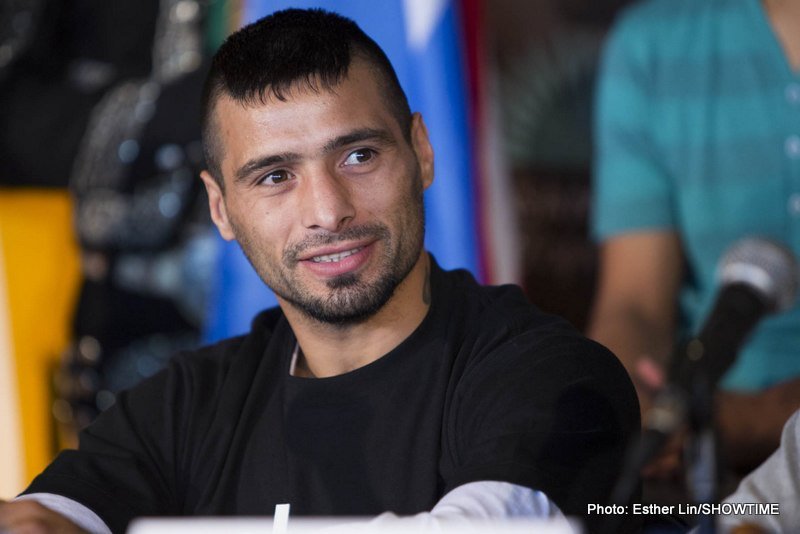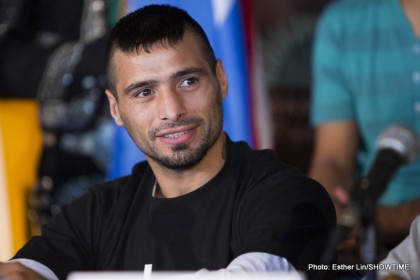 Following his shock upset stoppage loss to Viktor Postol in October, former 140-pound champ Lucas Matthysse aims to prove he is far from done by invading the talent-rich welterweight division. Dan Rafael of ESPN.com reports how the big punching former champion is currently back in training and will make his ring return at 147, probably on the under-card of the huge Canelo Alvarez-Amir Khan bill in Las Vegas on May 7th. Matthysse will face TBA, but Eric Gomez of Golden Boy told Rafael how the plan is for the 37-4(34) operator to meet "a quality contender."
At age 33, Matthysse should have enough time left in his career to be able to, at the very least, feature in a couple of big fights at welterweight. And with so many marquee names punching at 147, there are plenty of options for the fan-friendly warrior who has, the Postol loss aside, always given his all in exciting battles.
Gomez told ESPN.com that the loss Matthysse suffered against Postol "made him hungrier." Gomez also listed a few possible future showdowns for Matthysse – including on the lost of maybes: Tim Bradley, Ruslan Provodnikov (in what would be a rematch of a great fight won by Matthysse) and Manny Pacquiao (who, it seems, nobody really believes will retire after his April rubber-match with Bradley).
Either of these fights would be big, exciting and financially rewarding for both fighters, but can Mattyhsse get himself into a position to be able to get such fights? How much has the warrior who turned pro in 2004 got left? Gomez said the move up in weight will suit his fighter well, seeing as how Matthysse has been fighting at 140 for such a long, long time (even since his amateur days) but he has had quite a tough career. Wars against the likes of Zab Judah, Danny Garcia and John Molina Junior must have taken a toll on the Argentine, while the way Matthysse quit against Postol alarmed many.
Matthysse is of course not lacking in heart (he said he simply could not see at the time of the ending against Postol) but not all fighters who move up in weight following a loss make the transition. A rematch with Provodnikov would perhaps be the best move for Matthysse, as he used a clever blend of slugging and boxing to defeat the Russian in one of his best fights. But, if he can reel off one or two impressive comeback wins at the new weight, Matthysse against any of the names Gomez mentioned would certainly prove attractive to the fans.
The already stacked welterweight division could soon be made even more interesting, thanks to the fighter known as "La Maquina."