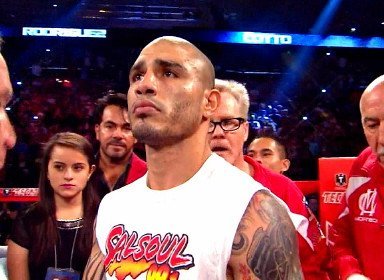 Miguel Cotto (38-4, 31 KO's) unveiled his old left hook and used it to destroy Delvin Rodriguez (28-7-3, 16 KO's) by an impressive 3rd round knockout on Saturday night in a fight televised by HBO at the Amway Center, in Orlando, Florida.
Cotto badly hurt Rodriguez with a huge left hooks to the head in the last seconds of the 2nd round that had him out on his feet against the ropes. Immediately at the start of the 3rd round, Cotto pounced on Rodriguez and chopped him down with a hard right to the body followed by a tremendous left hook to the head that sent him down.
While Rodriguez was on his way to the canvas Cotto nailed him with another big left hook before the referee Frank Santore Jr. could stop in to halt the fight.
Rodriguez made a huge mistake of backing up to the ropes time and time again in trying to fight from that position. That made it incredibly easy for Cotto to close the distance and land his big left hooks to the body and the head. We saw that happen again and again in the first 2 rounds. It was no surprise that Rodriguez ended up getting hurt late in the 2nd round because Cotto had been loading up on every left hook that he threw, and Rodriguez was getting hit flush with body and head shots.
Rodriguez took the body shots pretty well, but he was rocked by a left hook to the head late in the 2nd. The fight would have ended right then and there because Rodriguez was out on his feet. Fortunately for him the round ended just when he got hurt, and this allowed him to escape the round without getting hurt with a finishing shot. However, there was no way for Rodriguez to be able to recover from that shot in between rounds, so once the 3rd round started, Cotto put Rodriguez out of his misery with 2 left hooks to the head that deposited him on the canvas for good.
***
The co-feature bout between Terence Crawford (22-0, 16 KO's) Andrey Klimov (16-1, 8 KO's) was something of a let down with Crawford winning a one-sided 10 round unanimous decision by the scores 100-90 on all three of the judges score cards. Both Crawford and Klimov played it safe in the fight and focused on just boxing and avoiding mistakes. The crowd hated the lack of action and booed loudly all fight long.
***
Other fight results on the card:
Jason Velez UD 10 Dat Nguyen
Jorge Melendez TKO 2 Jamaal Davis
Moises Carasquillo Jr. UD 4 Steven Chadwick
Ricky Tomlinson SD 4 Lamar Charlton