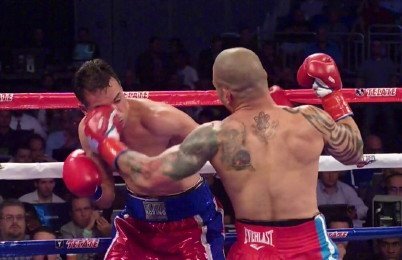 One of the ideas that Top Rank Promotions has for Miguel Cotto (38-4, 31 KO's) is for him to move up to 160 for his next fight and challenge WBC middleweight champion Sergio Martinez for his title. Top Rank's Bob Arum would like for Cotto to take on Sergio and sees it as a fight that would make a lot of money if he can get Sergio to agree to the fight.
Cotto also has a slight chance of fighting former WBA/WBC junior middleweight champion Saul "Canelo" Alvarez. That might be the better fight because it would likely bring in much more money than a fight against Sergio, who is coming off of a poor performance against Martin Murray last April. Martinez is still recovering from hand and a knee injury from that fight.
Last night Cotto defeated Delvin Rodriguez (28-7-3, 16 KO's) by a 3rd round TKO at the Amway Center, in Orlando, Florida, USA. It was definitely one of Cotto's better performances during the past 4 years. Cotto hasn't looked this good since his win over Michael Jennings in February of 2009.
Arum said to ESPN "I think that fight would be a natural progression. That should be a goal to fight for the middleweight championship. It would be a great accomplishment and it would mean loads of money for him."
It's still too early to be throwing Cotto in with a middleweight like Martinez. Cotto just beat a middle of the road fighter in Devlin Rodriguez, and that was Cotto's first fight with trainer Freddie Roach. Instead of moving Cotto to the head of the class in facing a big puncher like Martinez, Cotto needs a lesser threat.
If Cotto is just looking to cash out then Martinez might be okay, but if that's what he wants to do then Canelo is the much better option. Martinez is popular but nowhere near as popular as Canelo. That's where the big money is. Cotto would probably need to be a free agent to get a fight with Canelo, because I don't see a fight being put together if he's with Top Rank.