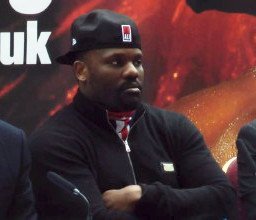 British heavyweight star Dereck Chisora has slammed rival heavyweights Tomasz Adamek and Deontay Wilder and told them he's coming for them next.
Chisora takes on German Edmund Gerber for the Vacant European Heavyweight title on Saturday 21st September at the Copper Box Arena with top contenders Adamek and Wilder also on his hit list as he marches towards a second world title shot.
Talks with Adamek's promoter had been ongoing for Chisora to face the Polish hero, a former world champion at light-heavyweight and cruiserweight, later this year in London, but terms could not be agreed.
Instead, Adamek has taken a fight with Vyacheslav Glazkov on November 16. Glazkov drew with Malik Scott in February this year in fight that many felt the American had won. Chisora would then inflict the first loss to Scott's record in July this year when he stopped him in six rounds at Wembley Arena.
Chisora said, "Adamek is a good fighter, but I'd be too much for him if we ever met. I was looking forward to the prospect of fighting him soon, he's a hero in Poland and Poland is like a second home to me, I love the country and people and it would have been a great fight for them. I don't blame him taking an easier fight against Glazkov instead of me. From what I saw of the fight between Scott and Glazkov, Scott blatantly won the fight and look what I did to Scott."
Finchley puncher Del Boy is more enraged that unbeaten Deontay Wilder recently slipped into Great Britain on the quiet to spar with David Haye, when he claimed earlier this year that he couldn't leave the US to fight Chisora at Wembley Arena on June 15 because of his arrest for battery.
Dynamite-punching Wilder, who has knocked out all 29 of his opponents, recently stopped former WBO World Heavyweight Champion Siarhei Liakovich in the first round, bringing his record of first round knockouts to 17, but Chisora is desperate to fight the unbeaten American and inflict the first loss on his record like he did to Scott.
Chisora stormed, "As for Wilder, he couldn't make our fight in June saying that he couldn't leave the US, yet a few months later he manages to fly into London with no trouble to spar with Haye. Wilder is just a creation, he's blowing over empty bodies at the moment which is why he is building up an incredible record. I wasn't even impressed with his last win over Liakhovich. Once they take the cotton wool wrapping off him and let him lose on a real, live, heavyweight I'll be there waiting for him."