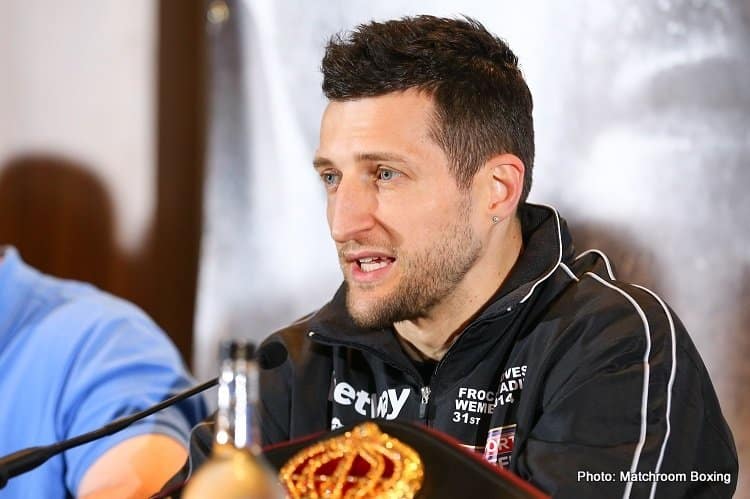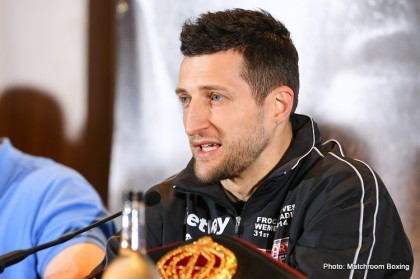 Nottingham's Carl Froch finally brought the curtain down on his world title winning boxing career last week to take up his new role as full-time pundit for Sky Boxing, bringing about an end to the will he/won't he fight again debate that had been rumbling since his 2nd victory over countryman George Groves last May.
After vacating his IBF title rather than face James DeGale, the Cobra was stripped of his WBA (reg) strap for inactivity as he made a decision about his next move and waited out an elbow injury – watching a mooted fight with Julio Cesar Chavez Jr in Las Vegas fall by the wayside when the Mexican was beaten into submission by Andrzej Fonfara earlier this year.
Sadly for Froch, many will remember him tainting his legacy and integrity by leading the fans down the Gennady Golovkin path in the weeks before his retirement, confirming that talks between the teams were ongoing and that he was seriously considering fighting the big-hitting middleweight.
In his latest chat with iFLtv, Froch has given an insight into his mindset leading up to his retirement and tries to defend "that" social media post where he said he was "too big and too strong for GGG" alongside a picture of him in fighting shape.
Asked why he felt the need to tease the fans in such a way he said;
"Cause I am too big and too strong for GGG. At the time – it was nothing to do with fighting. It doesn't matter if I want to fight again or not. In my opinion I'm too big and too strong for triple G. That's my opinion, I'm entitled to my opinion and that's what people do on twitter – they put their opinion out."
It was a distasteful thing to do for a man who clearly wanted a big fight to go out on – especially for the boxing fans who were led to believe he was serious. And for Golovkin himself. Froch could have filled Wembley all over again against Golovkin, or gone to the US to fight him. If he was prepared to fight the ill-disciplined Chavez over there?
It would seem in truth that he had little intention of ever fighting Golovkin as even with the Kazakh coming up in weight, he is a dangerous fight for any 38 year old who's pride and arrogance both get in the way of his reason at times.
Yet Froch is insistent he was agonizing over a decision right up until the day before he announced. Finally deciding that family – and age, were motivating factors in the decision as well as claiming he was trying to get a fight for up to 6 months. A fight that he fancied, anyway.
"The day before the announcement was when I made the definitive decision that I'm definitely retiring. It's been going on for probably 6 months, trying to get a fight, trying to look at options, timings." he said.
"Once the Chavez fight fell through at the end of March, since then there's not been a great deal of things that have come up that I thought 'yeah, that could work, time wise, motivation wise and a lot of different things."
"There's a lot going on out of boxing in my personal life, I'm 38 – all these things that I looked at and thought about, and after a good chat with my partner Rachel, my coach Rob McCracken and Eddie. It just came together literally the day before we announced."
"If Chavez had beaten Fonfara there would have still been a fight there. That fight would've taken place in America, Las Vegas and I would've probably thought 'yeah – I can get up for that. Maybe? I was very close to doing the deal."
"I would have boxed Chavez if the opportunity was there, it would've happened but it didn't. If he'd have beaten Fonfara then yeah, I would've probably boxed Chavez."
And it would seem a rematch with Andre Ward, the only man to defeat Froch, was an exercise in futility for the Nottingham man, who, in an uncharacteristic display of humbleness said;
"If I fought Andre Ward he beats me every day of the week on points. He beats me on points, keeps out of my way, I can't hit him. He's too good. But if I caught him on the chin I strongly believe I could knock him out."
Yet Froch will surely be content to leave on a high with the Groves fights, which were indeed a massive event in British boxing that he is, and should be, very proud of.
"It was a great fight that happened at Wembley Stadium. People will look back on that in many, many years to come – and see what size, the magnitude of the event that it was, and look back and go; 'wow' – that may never see that be done again in their whole lifetime. So that's something to be very proud of and sign off on that fight."
"I'm very happy, I'm very satisfied and I'm looking forward to starting the next chapter in my life."
"There's absolutely no reason for me to come back to the ring, including financial gain. But I can't definitely say I won't ever get back in the ring again – 'cause I might get in and sweep it, give it a clean up!"
"But never say never."
Twitter @Undilutedpoison