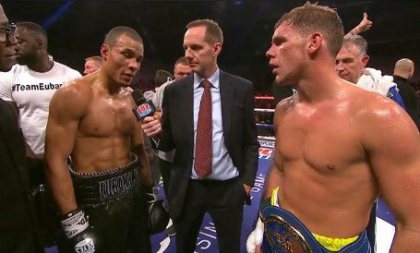 WBO 160 lb challenger, Billy Joe Saunders (22-0, 12ko), Marbella bound for camp ahead of his crunch world title challenge to Andy Lee on Dec. 19, has again verbally laid waste to bitter rival Chris Eubank Jr (20-1, 15ko), comparing his former opponent to fake goods sold at Dagenham market!
Eubank last week headlined an absolute shocker of a card from Sheffield, in which he destroyed hopelessly overmatched 39 year old American, Tony Jeter in around four effortless minutes, and while his new handlers at Matchroom have been hyping their signing to the hilt ahead of his December clash with Spike O'Sullivan (22-1, 15ko), Saunders remains completely unconvinced, given he has beaten both men in the past.
"To be honest I get it from loads of people on twitter, people I don't even know," he said to iFLtv about Eubank and last week's show. "They say ' did you see that? It's embarrassing,' people who don't even know nothing about boxing can see it. So the paying public can see it, they clearly know they're getting ripped off.
"He's [Eubank] like a market fighter ain't he? He's a Dagenham market fighter, all fake. They like to sell fake goods. That's what they [Matchroom] do, they sell him and he's a fake."
Expressing his distaste at the mismatch with Jeter, Saunders still wasn't beyond admitting he can give the Brighton man credit – if and when it's due.
"To sell that to people? People [are] paying a lot of money [for him] to just flash off a couple of rounds. I mean if he's in with a good fighter, as much as we dislike each other, if he done well, then credit where it's due but you don't get no credit for doing that – not after the amount of fights he's had as well."
Eubank moves on to O'Sullivan on December 12th in London, yet Saunders is predicting he will again come unstuck against the likable Irishman, claiming his friend and former opponent will knock Eubank out, even going so far as to say he is willing to make a personal £10k bet with Jr, that he loses the fight by KO.
"Eubank thinks he can box. He's not a good boxer… He's tough, comes forward and has a go. I spoke to Spike this morning funnily enough and he's been sparring in America with Jermain Taylor, so I'm sure he's getting some good experience himself."
"I'll have a 10 grand bet with Eubank that Spike knocks him out, yeah."
Saunders fights Andy Lee in Manchester, Dec.19 live on Boxnation in the UK.
Eubank v O'Sullivan will be screened by Sky Sports, ostensibly on the Box Office platform, although this hasn't yet been officially confirmed by promoter Matchroom.
Twitter @undilutedpoison