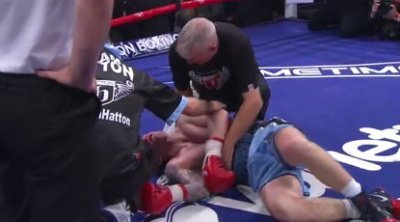 By Marcus Richardson: Ricky Hatton (45-3, 32 KO's) gave it all he had tonight but it wasn't good enough as he was stopped in the 9th round by former WBA World welterweight champion Vyacheslav Senchenko (33-1, 22 KO's) at the M.E.N Arena in Manchester, UK.
A tired looking Hatton was trying to press the action in the 9th when he was hit by a stabbing left to side by Senchenko. Hatton immediately went down with a look of terrible pain on his face. His loyal British boxing fans waited anxiously for him to get back to his feet, but Hatton couldn't. He was in too much pain from the shot and was counted out by the referee.
After the fight Hatton said " thought I was maybe four rounds up but there were clear signs of ring rust. I hurt him a few times, and I was winning. I don't want to make any hasty decisions but I am really heartbroken, That's not how my career should end with two straight losses."
Hatton went onto mention that he had come back from a 3 1/2 year retirement and had selected a tough former champion because he wanted to get a world title shot straightaway rather than working his way up by fighting tune-up bouts.
Although Hatton did appear to have a slight lead, he was clearly fading from the 5th round and taking more and more shots from Senchenko. This seemed to give Senchenko comfidence, because he started throwing more shots from the 6th round and was catching Hatton quite often.
Hatton's timing wasn't there. He missed a lot of shots, and at one point he fell down while attempting to throw a wild punch. Compared to the Hatton from earlier year, he looked nothing like his old self. Hatton wasn't working on the inside like he used to do earlier in his career, and had problems eluding Senchenko's hard jabs.
Hatton lost a lot of weight in the past 10 months to get down to 147 lbs for this fight, and he really should have worked his way back into competition slowly instead of rushing into this fight. Even former heavyweight champion George Foreman took his time when he back from a long retirement, but Hatton didn't want to wait and he paid the price for it tonight.