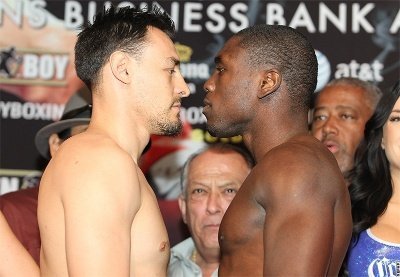 By Joseph Herron – Photos by Tom Hogan/Hoganphotos/Golden Boy Promotions – Tonight at the Citizens Business Bank Arena in Ontario, California, four division world champion Robert "The Ghost" Guerrero (30-1-1, 18 KOs) will put his interim WBC Welterweight title on the line when he faces arguably his toughest test to date, former WBC 147 pound title holder Andre Berto (28-1, 22 KOs).
The highly anticipated match-up will air on HBO World Championship Boxing at 10PM EST/PST (delayed on the American west coast), after Golden Boy prospect Keith Thurman squares off against former 147 pound champion Carlos Quintana in the evening's co-main event.
While the twelve round main event should answer many questions surrounding both competing fighters, expert trainer James Gogue believes that Guerrero and Berto respectively have a lot riding on this performance.
"This is a very intriguing bout in which both fighters have much to prove," observes the 29 year fight coach. "Most critics of Robert Guerrero have stated that although he's a four division title holder, he's never been in the ring with a fighter who possesses the speed and power of an Andre Berto."
"And although Berto is a former WBC Welterweight Champion, he's had to face many stressful issues outside of the ring and has only fought twice in two years; losing one of those bouts to a tough southpaw fighter in Victor Ortiz."
"Both fighters are looking to use this performance to possibly catapult their careers into more lucrative bouts. And with the competitive nature of the packed 147 pound weight division, neither fighter can really afford to lose this contest. So expect to see the best version of both men in the ring."
As the experienced boxing trainer acknowledges the attributes of both men, Mr. Gogue believes that one fighter will enter the ring with a clear edge.
"Although Berto hasn't fought in over a year and will more than likely experience some ring rust in the early portion of this twelve round contest, I feel that Andre will have a big advantage in this bout because he seems to be the more naturally gifted athlete. From what I've observed in previous outings of both fighters, Berto possesses better hand speed and more explosive punching power."
"Andre has a wide arsenal of punches with which he can hurt his opponents at any time during a fight. He uses short, compact overhand rights, uppercuts, body shots, and hard left hooks when he finds his range. I believe that once Andre Berto closes the distance, Robert Guerrero will be in serious trouble. If Guerrero allows Berto to shorten the distance and elects to fight sporadically on the inside like he did against Selcuk Aydin in July, I don't think he'll be able to handle Andre's explosive speed and power at close range."
"Perhaps Robert was uncharacteristically fighting Aydin on the inside at times during his last fight because of an unusual amount of fatigue felt from competing at 147 pounds for the first time. Whatever the case was, Guerrero cannot choose to fight Berto on the inside or he will pay dearly. "
"Berto has more speed, power, and overall talent than Aydin. He's faster, sharper, and more explosive. I don't think Guerrero's defensive skills are good enough at close to medium range that he can elect to sit in the pocket and trade with Berto. When he fought against a mid-range bomber like Orlando Salido at Featherweight back in 2006, Guerrero was tagged continuously whenever he stood and traded with the current WBO Featherweight Champion."
"He'll get knocked out by Andre Berto if he doesn't keep the fight at a safe distance for all twelve rounds."
According to the expert fight strategist, tonight's bout will indeed be decided by distance and movement.
"The only way Robert Guerrero can be victorious against Andre Berto is by fighting him at a distance while moving laterally from the outside. He must use his long rangy jab while keeping his lead foot on the outside of Andre's left leg. Robert has to keep Andre at an angle that forces him to throw his power hand across his body and has to counter Berto effectively after he misses."
"Guerrero has to fire off one or two shots at a time then step around Andre. He cannot let Berto get himself set to punch and has to make him move around the ring. Robert can't stay in the line of fire. He has to continuously move to his right and shoot his straight left hand and right hook followed by more lateral movement."
"While Robert was used to being the bigger fighter at 126, 130, and 135, I don't think he has the fire power to keep a natural Welterweight like Andre Berto off of him for twelve rounds. I just don't think Guerrero is a big enough puncher to gain that kind of respect from an effective aggressor like Andre."
As we've seen from different fighters throughout the history of boxing, it often takes time for a fighter to properly grow into a larger weight division and develop power. Although Guerrero has already defeated a natural 147 pound contender in the Welterweight division, James Gogue doesn't believe that sufficient time has elapsed to develop the kind of power needed to earn the respect of a durable and confident fighter like Andre Berto.
"Even though we've seen fighters like Sergio Martinez gain knock-out power after growing into a larger weight division, 'Maravilla' developed this power over a period of two fights and a year's time. It hasn't been enough time for Guerrero to develop the kind of explosive power that will be needed to keep Berto off of him on Saturday night. Guerrero deserves a lot of credit for not only moving up two weight divisions and winning a world title, but also for taking on one of the most feared Welterweights in boxing."
Despite recognizing Andre Berto as the clear favorite on Saturday night, the experienced fight trainer doesn't completely discount the chances of the four division world champion.
"Although I think Andre Berto's speed and power will ultimately prove to be too much for Robert Guerrero, 'The Ghost' is coming into this fight a very confident champion. He hasn't technically lost a fight in almost seven years and will be the incumbent title holder on Saturday night."
"So expect to see a very competitive fight on the biggest stage of boxing between two of the sport's best fighters!"