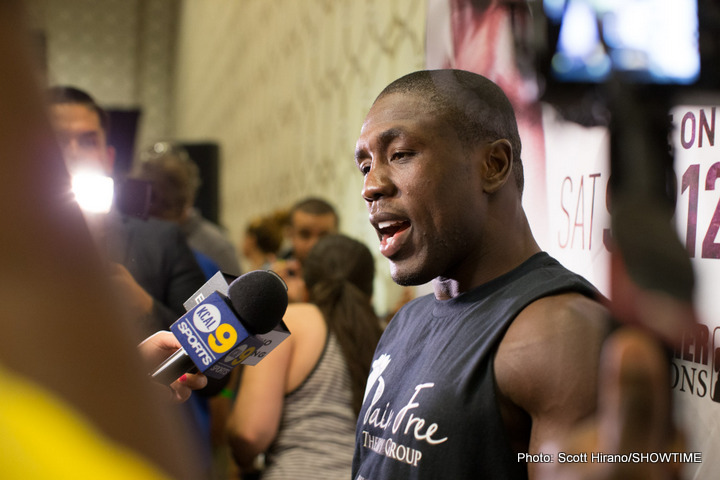 Welterweights Victor Ortiz and Andre Berto will meet in a return meeting of their sensational 2011 battle, with the rematch set for April 30th in Carson, California, RingTV.com has reported. The two fighters, both past what they once were, could treat fans to another great action fight. Back in April of 2011, the two traded knockdowns in a classic that was eventually won by Ortiz via unanimous decision. That fight was for the WBC welterweight title, the rematch is a non-title affair.
Both men have of course fought Floyd Mayweather Junior, with Ortiz being "sucker punched" to a 4th-round KO loss and Berto, in what was Mayweather's last fight in September, losing a wide decision. Both Ortiz, 31-5-2(24) and Berto, 30-4(23) still believe they can make it back to the top. Berto bounced back from his loss to Ortiz (the first defeat of his career) by beating Jan Zaveck to win the IBF welterweight title, but he then suffered back-to-back defeats at the hands of Robert Guerrero and Jesus Soto Karass. Injuries have also hampered Berto, at one time seen as a potential superstar. In his last three fights, dating back to September of 2014, Berto has gone 2-1, with the wins coming over Steve Upsher Chambers and, in a WBA interim title fight, Josesito Lopez.
It's even harder to know what Ortiz, at age 29 the younger man by three years, has left. The southpaw, also once looked at as a future star, has fought just four times since his stoppage loss to Mayweather. Ortiz was beaten by another common opponent in Lopez, who broke his jaw on the way to stopping Ortiz in a big upset, and then by Luis Collazo via quick TKO. Since then, the fighter who has tried his hand at acting (in a slice of the "Expendables" saga) has beaten so-so fighters, Manuel Perez, 22-10-1 and Gilberto Sanchez Leon, 33-13-3. Ortiz has boxed just three times since the June 2012 loss to Lopez.
The rematch is a natural for two fighters who are at the crossroads. In light of how exciting the first fight was, the promoters know the return, even though it is between two guys who have past their best, will sell. Berto is probably the pick to win and gain revenge. It was alarming to see Ortiz fall apart so quickly against Collazo, with some fans questioning Ortiz' heart and desire; and not for the first time. It really was a long time ago, in his sensational but losing slugfest with Marcos Maidana, when Ortiz was a devastating KO machine.
Some say that stoppage loss to Maidana, when Ortiz quit, all but ruined the Oxnard slugger. It does seem as though it's too late for Ortiz to regain much of his earlier promise. Still, the April 30th sequel could well deliver another memorable fight. It may depend on how much stomach for battle Ortiz has left. If he's injury-free, the pick has to be Berto, by mid-rounds stoppage.