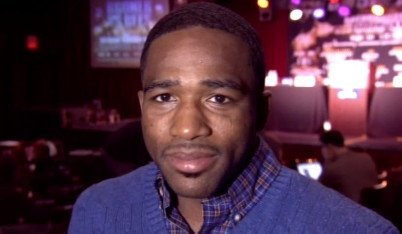 By Robert Jackson: With the news that Adrien Broner will be facing WBA 147lb Champion Paulie Malignaggi next, why this move and not Amir Khan, or Lamont Peterson both available 1 weight class up at 140lb? Furthermore after only 2 fights there, Broner hasn't cleaned out the 135lb weight class he just moved into from the 130lb division. At 135lbs, Yuri Gamboa has been calling Broner out and this writer believes that would be a makeable, great fight. 135lb Champion Richard Abril also has Broner in his sights.
Promoted by Golden Boy Promotions both Malignaggi and Broner will be in a showcase fight, but I would expect Broner to win and maybe stop the Brooklyn native. It would probably resemble Mayweather/Gatti. This would be the best case scenario for Golden Boy, who as promoters of the heir apparent to Money Mayweather would have bragging rights and the next big star. Broner's upward mobility, flashy style and good looks could even upstage Canelo Alvarez who's also vying to be the next great fighter.
But don't get it wrong, Golden Boy is moving Broner up to 147lbs for a reason and as every fight historian will tell you the torch is passed by the veteran fighter taking on the up-and-comer and LOSING to him. This happened in recent times when Kostya Tszyu fought Ricky Hatton and lost passing the 140lb torch to the Englishman. It also happened in the late 70's when Muhammad Ali faced former sparring partner Larry Holmes losing by a landslide, with the torch being passed to Holmes. Golden Boy is even positioning Broner for a move from HBO to Showtime, a move that would make a Mayweather/Broner fight MUCH easier to make.
Besides the torch being passed the biggest fight that can now be made if both men continue winning is between Floyd Jr and Broner and the whispers about this fight happening are getting louder. Floyd Jr figures he can pass the torch without fighting Broner but the public sentiment and outcry for this fight to happen will DEMAND it. Floyd is a smart man and if you'll notice Floyd still holds the WBA 154lb title which he won by beating Miguel Cotto in 2012, by now he would've relinquished that 154lb title to drop back down to 147lbs as he did after the Oscar De La Hoya fight. But to Floyd's credit he's holding on to that title because it is an escape hatch out of a Broner fight. The demand that Floyd fight Canelo Alvarez, other 154lbers and even Sergio Martinez is a SHOUT not a whisper right now!
So as much as Golden Boy would like to stage the mentor vs. protégé fight it's probably not going to happen. Floyd Jr has a 6 fight ~3year deal with Showtime with guaranteed money involved which can be maximized by him winning. After Guerrero, and this is just speculation on my part, Floyd will look to face Devon Alexander another southpaw in preparation for either Pacquiao or Sergio Martinez. If Pacquiao and Martinez fights can't be made Floyd WILL face Canelo. Floyd would be a card counter if he played poker or blackjack for a living cause that's how he manages his boxing career. He's counting cards right now looking at the percentages of him winning and him losing and will make the decision on who he'll fight next based on the number that is best for him. To Floyd's disadvantage he has nowhere to go but up (154, 160) cause staying at 147lbs will put him in the line of fire of having to face baby Brother and I'm sure that Broner won't say no if given the chance to face his idol.