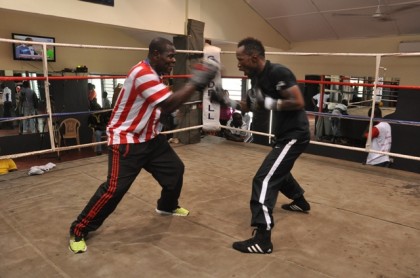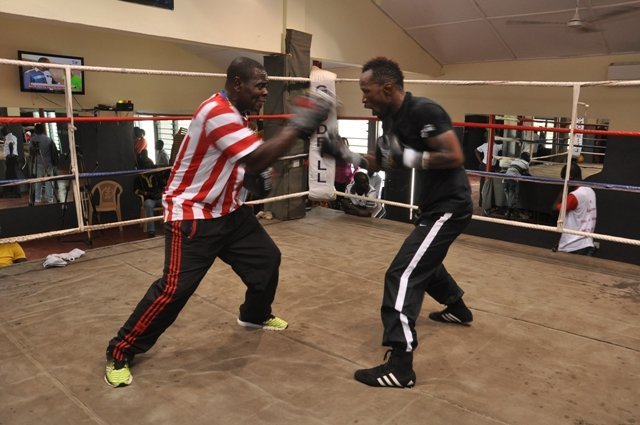 By Prince Dornu-Leiku – Former world boxing champion, Joseph King Kong Agbeko says he is in the top shape of his life as he prepares to face Colombian slugger, Luis Mendelez for the IBO Bantamweight belt in Accra on March 24.
The Ghanaian returns to the ring for the first time since losing the rematch of the epic battle against Abner Mares in December 2011 when he fights Mendelez in the Ghanaian capital next weekend, the first top level world title fight in this country in over 25 years.
Fit, strong and healthy, Agbeko invited the Ghanaian media to watch him train under the tutelage of new coach, Ofori Asare who is renowned for his great work with many of Ghana's best amateur boxers over the years.
Also present at the Bridge Boxing Gym to back his good friend and one he is tipping to beat Melendez on March 24 was Joshua Clottey, the former IBF Welterweight champion who was even made to mockingly interview Agbeko by Ghana's leading sports television station, Metro TV who screened the training session live to an audience spanning Ghana, Africa and even worldwide.
"I've known Coach Asare for a very long time, since he was my trainer during my amateur days so we already have a good relationship and working with him again has been fantastic, everything is okay. Physically, I'm very strong, fit and very prepared for this fight," Agbeko told the Ghana based website www.sportsinghana.com exclusively at the event.
He added: "I've watched some videos of Mendelez and I admit he is durable and doesn't give much space but we are working very hard to take care of any problems he will pose. I'm confident of victory, if not a knockout then unanimous decision, an impressive win. It could be a knockout, it could be on points but definitely an impressive win."
He is also appealing to Ghanaians and indeed all in Accra to make it to the Accra Sports Stadium on Friday night next week to witness a classic set of fights aside his very own under the auspices of the newly established Fresh King Entertainment's maiden ever promotion. Hot prospects, Frederick Lawson, Sena Agbeko and Emmanuel Addotei Addo AKA Money Mosquito are some of the names billed for the undercard.
"I love Ghanaians, I know you've been supporting me all this while and I thank you very much because I know I can't make it up to you. All I can do is to win for you at all cost so please pray for me and come to Accra Sports Stadium to cheer me to victory. This is not a fight for me alone, it's a fight for the entire nation," Agbeko said.