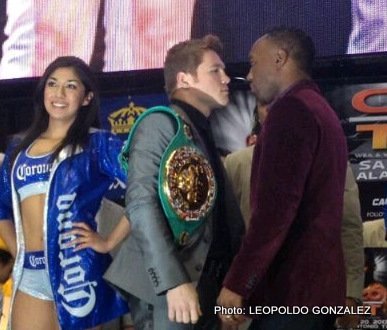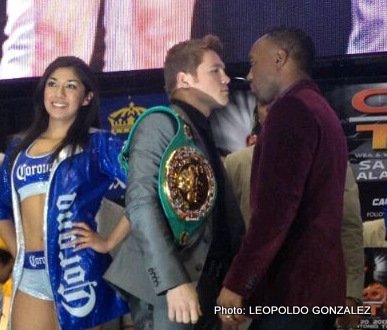 By Marc Livitz: in San Antonio, TX. Two undefeated boxing sensations visited the Alamo City this afternoon. In front of perhaps more than five hundred fans, unbeaten Mexican fight superstar and WBC super welterweight champion Saul "Canelo" Alvarez and undefeated WBA Super Welterweight champion Austin "No Doubt" Trout kicked off their 3-city Texas press tour this afternoon. The venue which will host the event on April 20, The Alamodome has been the site of a few memorable fights over the years, most notably the contest of which the highly questionable result still resonates to this day, the September 1993 matchup between Julio Cesar Chavez and Pernell Whitaker, which ended in a dubious draw.
San Antonio mayor Julian Castro was the first to the podium and expressed his sincere happiness of being the host of such a great event for the city. Castro commented, "San Antonio has a rich and proud boxing history. Who could forget in 1993 when (Julio Cesar) Chavez fought (Pernell) Whitaker and other great names such as (James) Leija and (Robert) Quiroga?"
Former boxing great and current CEO of Golden Boy Promotions Oscar de la Hoya was the second speaker and like Mr. Castro, he spoke of the great tradition of San Antonio and his overall feeling of delight of bringing the event to south Texas.
"We are excited to bring boxing back to the great city of San Antonio. We're now bringing a mega fight to you and it really is a dream come true for me and Golden Boy Promotions. Normally, these types of fights are in Las Vegas and sometimes on pay per view. This fight is on Showtime and we had to bring it here to you. We are hoping to fil this place all the way to the top.
These two guys are going to fight like there's no tomorrow. Canelo is a superstar in Mexico and his country is behind them because they are wanting to see that new fighter who will give them hope in moving forward. He wants to be put to the test and fight the very best. The beauty is that we don't know who's going to win."
Austin Trout (26(14)-0) briefly spoke to the highly pro-Canelo crowd. He said, "On April 20, a blessing will be in store for everyone. We all know that this fight wasn't wanted by many, but the fans made the push. The champion, Canelo heard the call and I thank him for that. I want to prove to you that I can win. I do believe that I am the better fighter because there would be no point of me getting in the ring if I didn't think that I could win. It won't be easy, but on April 20, I will leave the ring as the unified champion."
Lastly, Canelo Alvarez (41(30)-0-1) had a few words of his own.
""This fight is not easy, but I know that my country has my back. I'm very humbled and I'm going to continue to work hard. April 20 will be a great fight."