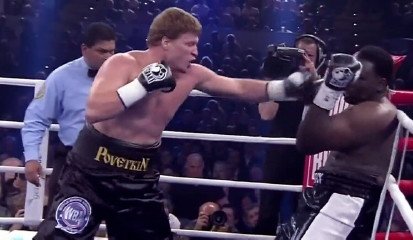 By Marcus Richardson: In a fight that should have never been allowed to happen, WBA World heavyweight champion Alexander Povetkin (25-0, 17 KO's) destroyed 39-year-old former WBC heavyweight champion Hasim Rahman (50-8-2, 41 KO's) in the 2nd round at the on Saturday night at the Sporthalle, Alsterdorf, Hamburg, Germany.
Rahman just looked shot to pieces, like a fighter that didn't belong in the same ring with Povetkin due to his faded skills. In the 2nd round, Povetkin staggered Rahman with a left hook to the head that caused Rahman to staggered back against the ropes. Povetkin then teed off on Rahman with combinations until the referee finally stopped the fight at 1:46 of the round.
***
Unbeaten EBU heavyweight champion Kubrat Pulev (17-0, 9 KO's) defeated the huge 6'7 1/2″ Alexander Ustinov (27-1, 21 KO's) by an 11th round knockout in an IBF heavyweight title eliminator bout.
Pulev, 31, put himself in a position to fight IBF heavyweight champion Wladimir Klitschko by knocking Ustinov down with a left hand in the 11th round. Ustinov went down in a delayed reaction from a punch that didn't seem to be thrown all that hard from Pulev. However, Ustinov was exhausted, bleeding from a cut over his left eye and pretty well battered from having eaten solid jabs from Pulev for 11 rounds. Pulev didn't really land all that many power shots in the fight, and the ones he did land weren't all that special.
The power just wasn't there, but the sheer accumulation of shots from Pulev, both power shots and jabs, was too much for Ustinov to take. Ustinov looked like he'd taken too much and just quit. The 305 pound Ustinov was also worn down from the pace of the fight, because Pulev kept steady pressure on him throughout and Ustinov was really gasping for breath by the 8th.
Ustinov staggered Pulev with two hard right hands in the 7th round, but was unable to finish him off because he failed to really go after him. With Ustinov catching his breath, Pulev then came back and finished the round strong by landing some solid combinations.
Rounds eight through eleven were one-sided as Ustinov was just gassed out and unable to fight hard.
***
In a highly controversial stoppage, WBA Inter-Continental light middleweight champion Jack Culcay (13-0, 9 KO's) scored a 5th round stoppage Mark Thompson (24-2, 14 KO's) in a fight that should have perhaps been allowed to continue. Culcay was unloading on Thompson with combinations while he was trapped against the ropes in the 5th, and referee Leszek Jankowiak jumped in and stopped the fight with Thompson still looking okay. The referee obviously halted the fight because Thompson failed to fire back shots while Culcary was unloading on him with a six punch flurry, but most of the shots missed and it seemed kind of odd that referee would stop the under those conditions.
In other action on the card:
Alexander Povetkin TKO 2 Hasim Rahman
David Graf UD 6 Martyn Grainger
Enrico Koelling UD 6 Pablo Sosa
Reda Zam Zam UD 6 Ciro Ciano