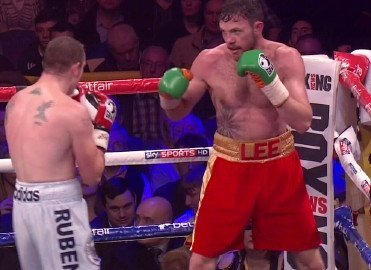 By Kevin Chittenden: Middleweight contender Andy Lee (29-2, 20 KO's) looked like a shell of his former self last Saturday night in having to really battle hard against a fighter that he would have likely blown out a year ago in Anthony Fitzgerald (13-4, 4 KO's).
The 28-year-old Lee defeated Fitzgerald by a 10 round decision, but it was far from easy. Lee's former trainer, the legendary Emanuel Steward, passed away last October, leaving Lee having to start over with a new trainer after having been with Steward for many years.
Lee chose British trainer Adam Booth, and the combination definitely didn't work well for Lee in his first fight. Lee, #7 WBC, #9 WBA, should have been able to drill the little known Fitzgerald to pieces in the center of the ring, but instead Lee was bulldozed to the ropes again and again in every round, and had to fight it out from that position. Referee gave Lee the win by a 98-94 score, but this is someone that Lee should have dominated completely and either one every round or knocked him out.
A fighter like Fitzgerald shouldn't have been able to back Lee up and blast away at him like he did. Lee let him do this and made the fight a lot harder than it should have been.
If this is the level that Lee is going to be fighting at from here on out then he needs to think about whether he wants to continue fighting or not because he's not going to be able to compete against the top middleweights like Sergio Martinez, Gennady Golovkin and Peter Quillin fighting like that.
In fact, I'd not recommend him fighting any of those guys because they're simply too dangerous for him to be fighting. Lee needs to put his focus on trying to get a fight against the lighter hitting IBF middleweight champion Daniel Geale, because he's someone that Lee would have a much better chance of beating due him not being a pressure fighter.
The 6'2" Lee is going to have to find a way to avoid backing up against the ropes because he fights poorly when he's back up like that. He's much more effective when he's in the center of the ring where he can use his long reach. In every fight that Lee has had problems in he's backed up to the ropes and taken punishment. It's unknown why he lets his opponents do that to him, but whatever the reason he's going to need to stop that if he wants to make something out of what's left of his career.