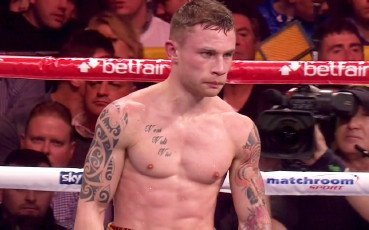 By Michael Collins: Eddie Hearn of Mathroom Sport is positioning his fighter EBU super bantamweight champion Carl Frampton (16-0, 11 KO's) towards the vacant IBF and WBC 122 pound titles, and away from the WBA and WBO champions Guillermo Rigondeaux and Nonito Donaire following Frampton's 9th round TKO win over former EBU super bantamweight champion Kiko Martinez last Saturday night in Belfast, Northern Ireland.
Quigg, the interim WBA super bantamweight champion, was at the fight last night and he believes he'll get a shot against Frampton eventually.
Quigg told Sky Sports News "It's going to happen. They [Frampton & Hearn] are talking about getting an IBF shot or a WBC shot, if there's a world title on the line then it would be even bigger. But the fight will definitely happen. I want it and he wants it. It's got to happen. The public wants it."
Of course it's going to happen. It's the only big fight out there for Frampton in the UK, and he and Hearn would be mad not to take it before Frampton or Quigg get exposed by better fighters in the division. We saw that Frampton is good enough to Martinez, but we also saw that he's not much better than that.
It was a really tough fight for Frampton, and he just doesn't have the talent to compete with Donaire, Rigondeaux, Abner Mares or even probably Vic Darchinyan.
Those guys are a cut above Frampton and if Hearn makes the mistake of putting him in with them, which I don't think he will, he'll lose. What Hearn seems to be doing is maneuvering around them in hopes of making Frampton one of the champions without him having to face anyone too good for him. In that way, Frampton would be similar to former WBO super middleweight champion Sebastian Zbik as one of the four champions, but from the best.
If Hearn can wait out Donaire and Rigondeaux until they get old or move out of the division, Frampton could pick up more than one belt, but that's still unclear whether he's got the talent to beat the likes of Victor Terrazaz or Miguel Vazquez Jr.
As for Quigg, he'll have to wait for a while because Hearn will likely not risk putting Frampton in with anyone good until he picks up one of the paper titles.