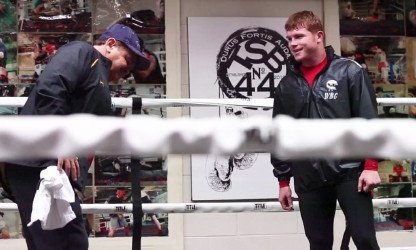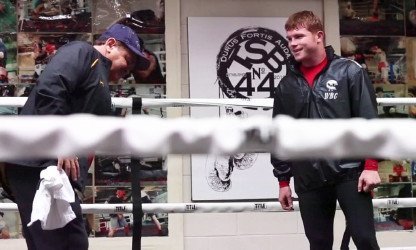 By Bill Phanco: WBC junior middleweight champion Saul "Canelo" Alvarez (41-0-1, 30 KO's) is set to fight on the Floyd Mayweather Jr. undercard on May 4th at the MGM Grand in Las Vegas, Nevada.
The 22-year-old Canelo doesn't have an opponent as of yet, but could see him in against WBA junior middleweight champion Austin Trout. He's the only fighter that has been consistently mentioned for Canelo, and it's kind of a situation where if Canelo doesn't face him he'll take major heat from the boxing world.
Trout beat Miguel Cotto last December, and Canelo was supposed to fight Cotto if he won that fight. As it turns out, Canelo would have been better off keeping quiet about his interest in facing Cotto because then there would have been the huge pressure on him to take on Trout next after he defeated Cotto.
Alvarez could be facing Mayweather in September if both fighters come out on top on May 4th. Mayweather is still expected to be facing Robert "The Ghost" Guerrero on May 4th despite Mayweather's recent comments on twitter about possibly facing IBF welterweight champion Devon Alexander instead.
Where things could get dicey is if Canelo or Mayweather lose their May 4th fights, resulting in a situation where they could come into their September fight with a lot shine on them than they have now. A match-up between the unbeaten Mayweather and Canelo would be a really interesting fight, but it's not nearly as interesting if one or both of them come into that fight having lost their May 4th fights.
Canelo has the much tougher fight on his hands than Mayweather if he ends up facing Trout. That's an opponent with the skills to make him look bad an actually beat him. You can't say the same thing for Guerrero in his match-up with Mayweather.
The only way Guerrero can beat Mayweather, short of roughing him up without the referee doing anything about it, is if Guerrero outworks Mayweather. He may out-work him, but he's going to be eating too many shots to win the fight.