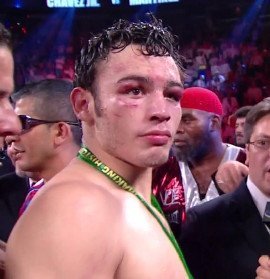 By Joseph Herron: Be careful what you ask for in boxing, because you just might get it. After the drama filled conclusion of Top Rank's main event at the Thomas & Mack Center in Las Vegas, Nevada, on September 15th, many questions remain concerning the heated rivalry between former WBC Middleweight Champion Julio Cesar Chavez Jr. and universally recognized 160 pound king Sergio "Maravilla" Martinez.
While the Argentine sharpshooter dominated JCC Jr. for eleven rounds of their twelve round battle, the epic final stanza opened the door for a lucrative rematch in the minds of many devoted fight fans.
Followers of the 26 year old fighter claim that an immediate rematch is a boxing imperative for true Middleweight supremacy. Junior's supporters allege that Martinez was saved by the final bell of their epic showdown, and a rematch in "Chavez Country" would result in a decisive and resounding KO.