By Marc Livitz – "Say it ain't so", says Mexico.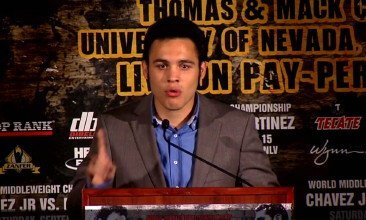 After witnessing one of the most memorable displays of sheer guts and chutzpah in recent boxing memory, someone just had to spill the coffee even though the warning to mind the hot water was in plain view.
Provided the just surfaced reports are correct, Julio Cesar Chavez, Jr. hopefully has Plaxico Burress on speed dial. Signs are pointing to a failed drug test following this past Saturday night's grandiose contribution to pugilistic lore.
There are momentary lapses of reason and there is also outright stupefaction at its finest. If the son of the legend from Culiacan did in fact test positive for marijuana, then a bit more is explained in terms of some of his punches sailing wider than a Buffalo Bills missed field goal, as well as his impressive pain threshold.
Those from the nation of sky high aren't usually the most combative of chaps. Nevertheless since ESPN graciously gives us "Friday Night Fights" each year, then perhaps boxing can have its own rendition of "C'mon, Man!".
We don't even have to wait for HBO to replay the fight this coming Saturday evening.