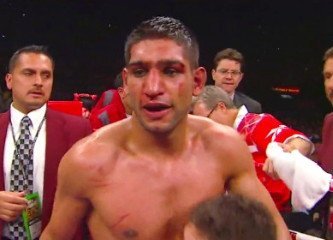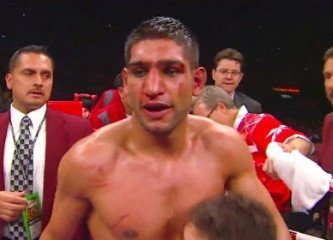 In an interesting confession, Amir Khan (28-3, 18 KO's) says he's already inked his part of the contract for a big fight against Floyd Mayweather Jr. (45-0, 26 KO's), but he's still waiting and hoping that Mayweather will sign. Khan isn't saying when the contract was sent to him and how long he's been waiting on Mayweather.
What Khan is saying is that he's willing to fight Manny Pacquiao next if Mayweather doesn't sign the contract. Khan says he would try and bring Pacquiao to Dubai to make the fight happen. Whether that's feasible given the Golden Boy – Top Rank freeze is the question. Khan's says he wants Pacquiao, but unless the two promotional companies can work with each other then he's wasting his breath.
"I am the one who signed the contract, I've signed my part of the contract, they've not signed theirs," Khan said to the Dailymail. "If he wants to fight Amir Khan then he should sign it. If he wants to face someone [Marcos Maidana] I've beaten then so be it. He wants to fight someone who makes him look good but styles make fights. I'd fight Manny…I would definitely consider that fight, and I am sure he would too."
I honestly don't think Pacquiao would take a fight against Khan, even if his promoter Bob Arum and Golden Boy blessed the fight. Pacquiao sees Khan as a friend, and he's not shown a lot of interest in wanting to fight Khan in the past. Of course, Pacquiao's tax issues might change things a little, who knows? A Khan vs. Pacquiao fight would draw more interest than a Pacquiao vs. Ruslan Provodnikov or Pacquiao vs. Tim Bradley fight.
Khan is starting to seem a little frustrated with Mayweather not signing the contract for their proposed May 3rd fight in Las Vegas. One also gets the sense of a slight hint of desperation from Khan to get a big fight, any big fight. I guess he's been waiting so long to get the likes of Mayweather in the ring that he's willing to go outside of Golden Boy Promotions to get another opponent if he can't get Mayweather.
You can understand Khan's situation. He's been beaten by Lamont Peterson and Danny Garcia recently, and he was almost beaten by Julio Diaz and Marcos Maidana. At this point, you can't say for sure whether Khan will beat the top contenders and champions in the 140-147 lb. divisions, and one more loss could wreck Khan's dreams of a Mayweather fight on a permanent basis. Mayweather isn't going to be fighting long enough for him to wait 2-3 years for Khan to redeem himself from yet another loss on his record. You can make an argument that Khan still hasn't redeemed himself from his defeats to Peterson and Garcia. I'm not sure that you can call victories over little Carlos Molina [not to be confused with IBF junior middleweight champion Carlos Molina with the same name] and Julio Diaz as fights that have redeemed Khan. That's what the fight against Devon Alexander was for, but Khan turned the fight down.