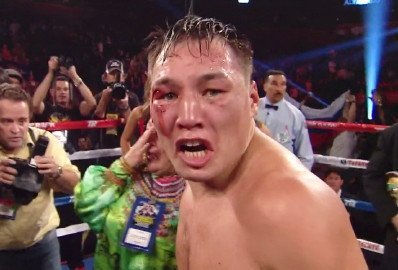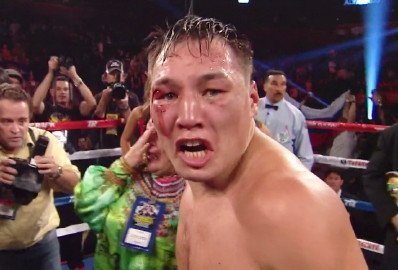 WBO light welterweight champion Ruslan Provodnikov (23-2, 16 KO's) thinks he has a good chance of being the next opponent for Manny Pacquiao (55-5-2, 38 KO's) on April 12th in Las Vegas, Nevada. Provodnikov says he didn't want the fight originally, but he's changed his mind about it and he's willing to fight Pacquiao in April.
This could be a very difficult fight for Pacquiao if it takes place, because Provodnikov is more rugged and powerful than the guys Pacquiao's been facing. This is a much tougher fight for Manny than his last opponent former WBA lightweight champion Brandon Rios. Provodnikov is naturally bigger, faster and stronger than Rios. He also appears to be a smarter fighter than Rios, so it would be a tougher fight for Pacquiao.
"Chances are good that we will meet with Pacquiao April 12, 2014," Provodnikov said via Allboxing.ru. "I originally did not want to fight with the Filipino . Still, we both trained under the guidance of Freddie Roach. Then, while on vacation in the resort, I think carefully about the situation. And I decided that if fate gives me a chance then you need to use it. Refuse to fight with great boxer stupid."
It would be surprising if Bob Arum allowed Pacquiao to take on the dangerous Provodnikov because he's got the kind of power that could potentially put Pacquiao on the canvas in the same way that Juan Manuel Marquez did last year in December. Pacquiao lost 11 months of his career after that loss, and another brutal knockout defeat by Pacquiao could see him losing more time to recover from the KO.
One thing tricky about a Pacquiao-Provodnikov is who would be Provodnikov's trainer. He's currently trained by Freddie Roach, the same trainer as Pacquiao. Roach has said that he doesn't want Pacquiao to fight Provodnikov because it would force him to train Pacquiao against his own fighter. But Roach doesn't have any say so in the match-making for Pacquiao other than making suggestions. Arum doesn't have a lot of guys left in his Top Rank stable to put in with Pacquiao, so a dangerous fighter like Provodnikov is one of the two guys left to feed him. I suppose we'll eventually see Mike Alvarado put in with Pacquiao at some point, if Pacquiao doesn't leave Top Rank when his contract expires next year.