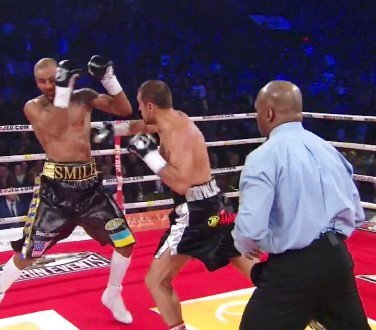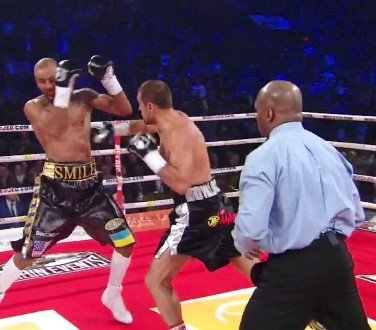 Former WBC light heavyweight champion Jean Pascal feels that WBO 175 lb. champion Sergey Kovalev (23-0-1, 21 KO's) should be seen as an untested fighter until he beats an actual world champion to prove himself. To Pascal, he doesn't know how good Kovalev is because he's never been in with an opponent to where he could evaluate his talent level. Right now Pascal sees Kovalev as still having a question mark over his head about how good he is until he faces his first test at light heavyweight.
"On paper, he's untested," Pascal said to hustleboss. "Until he's been tested, we'll never know his real value. Until he beats a champion or a former champion or a decent champion who has been tested before, I don' think he's earned the right to be considered the guy in the division."
Pascal might not be aware of the fact that Kovalev wasn't given the WBO title outside of the ring. He earned it by beating WBO light heavyweight champion Nathan Cleverly by a 4th round TKO last August. But Pascal is right about Kovalev being untested. He's not had a fight where he's been in with someone in Pascal, Bernard Hopkins or Adsonis Stevenson's class. He'd like to fight all of them, but getting even one of them to agree to the fight might prove difficult.
Stevenson is dragging his feet about fighting Kovalev, Hopkins is saying he can't fight Kovalev because he fights for HBO and him with Showtime, and Pascal hasn't fought a live body in 2 years since his loss to Hopkins in 2011. Pascal does have a fight next month against Lucian Bute on January 18th, but that's a lot safer fight for Pascal than him risking his neck fighting Stevenson or Kovalev. Bute was stopped by Carl Froch last year in 5 rounds. In Bute's last fight against Denis Grachev last year in November, Bute struggled and didn't look good or confident. He was little more than a shell of the fighter he once was in his prime.
You can make a pretty good argument that Pascal has failed the major tests that he's had during his career. He lost to Froch. In Pascal's two fights against Hopkins, he was given a controversial draw in their first fight and was beaten in their rematch two years ago. The only good fighter that Pascal has beaten was Chad Dawson in 2010 in a fight that was halted in the 11th round after Pascal collided heads with Dawson, opening up a big cut over his right eye.
The timing of the head clash worked out perfectly for Pascal, because Dawson had staggered him with a flurry and was trying to finish him off. Had the cut not occurred, it would have been interesting to see if Pascal would have survived the round. It's hard to listen to Pascal talk about Kovalev being untested when Pascal has not done well in the major tests that he's had. Granted, he has a lot of wins on his resume, but those victories have come for the most part against beatable opposition.