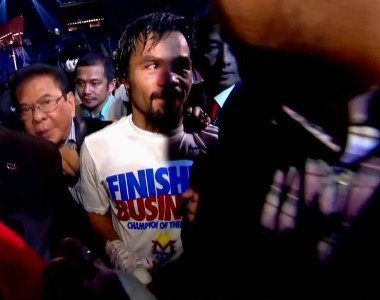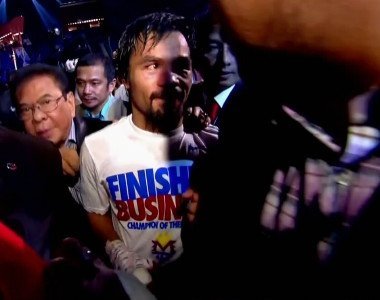 Showtime President of Sports Stephen Espinoza doesn't have a lot of faith than we'll be seeing a fight between Floyd Mayweather Jr. and Manny Pacquiao in he near future unless Pacquiao bites the bullet and chooses to leave Top Rank. Espinoza sees that as being the issue that is keeping the fight between Manny and Floyd from taking place. Espinoza has no doubts in his mind that Mayweather would take the fight with Pacquiao immediately.
Espinoza could be right. If Pacquiao was with Golden Boy Promotions are some other promotional company instead of Top Rank, he'd probably agree to take the fight with him in a heartbeat. After all, it's a fight that would give Mayweather a huge payday if he could get it. We just saw in his last fight against Saul "Canelo" Alvarez that Mayweather isn't afraid to take on a tough opponent, if it means that he's going to get a big payday out of the fight.
"Floyd will fight Manny Pacquiao anytime, anywhere," Espinoza said to the Telegraph. "Unfortunately, there is a promotional conflicts which are the issue. I'd like to be optimistic but there is a lot of politics involved. A lot of history to resolve. Unfortunately, until Manny Pacquiao changes his promotional representation, I'm not optimistic that it can happen."
If this is how it is then we probably won't see a Pacquiao-Mayweather fight ever, because Pacquiao doesn't seem to be interested in leaving Top Rank. He seems comfortable with his relationship with the company, and he's not had any complaints with the guys that Arum is matching him against – Joshua Clottey, Brandon Rios, Shane Mosley, Juan Manuel Marquez [x 4], Miguel Cotto and Antonio Margarito – in the past four years.
If Pacquiao is making $20-30 million to fight the likes of Rios, then why would he ever want to leave Top Rank and risk getting beaten by a fighter like Mayweather. It might be better off for Pacquiao to stick it out with Arum, because if he's going to be matching him up against Bradley, Rios, Mike Alvarado and Ruslan Provodnikov until he retires, then Pacquiao will have a good chance of prolonging his career.
It's just too bad that Top Rank and Golden Boy Promotions can't work with one another because it's got to be bad for each of them to be stuck matching their fighters against mainly guys from their own promotional stables. That narrows the sport into clubs and that's not interesting, especially when you see the multiple rematches that take place for lack of interesting opponents. We've seen Pacquiao fight Juan Manuel Marquez four times, and they would be fighting a fifth time if Marquez didn't say no.